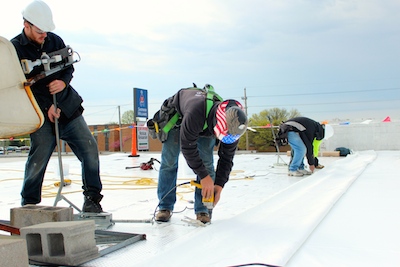 Exterior Pro Roofing is a regional leader in all aspects of professional roofing, from installation on new commercial sites to residential roof repair. We know the difference a qualified team of roofing experts can make in the installation and ongoing maintenance of your roof.
It's for this reason that our team strives every day to provide long-lasting, low maintenance roofing solutions for commercial and residential customers alike. For warranty-backed commercial roof repair and professional installation, the dedicated team at Exterior Pro Roofing have the solutions you need.
Our Services:
Commercial roofing: roof repair and installation for businesses, facilities and complexes.
Residential roofing: emergency roof repair, shingle installation and preventative maintenance to give homeowners the peace of mind that comes with high quality roofing.
Flat roofing: flat or low-slope roof repair, leak detection/maintenance and retrofit roofing systems to withstand environmental pressures.
Metal roofing: durable, single-ply metal roofing installation that can serve your property or business for decades.
Metal roof coating: commercial roof coating to protect your metal roof against the elements, such as heat, moisture and solar damage.
Asphalt shingles: residential shingle installation done right, with fast, clean and guaranteed results. Rest assured knowing your shingle roof is protected by warranty for 50 years to come.
Box gutters: gutter repair solutions for home and commercial properties, regardless of building or roof type.