The rapidly expanding Flat roofing market in the United States means flat roofing contractors have options when deciding which single ply membranes and roof coatings to install and suggest to building owners and property managers. Exterior Pro Inc. proudly installs the Duro-Last Commercial roofing System for these 3 Reasons.
1. It's All About Service
The commercial roofing industry is not a products business, it's a people business. Building relationships through great service is what makes Exterior Pro stand out in a competitive market place and that wouldn't be possible with out the support Duro-Last Provides it's base of trained, professional installers/ roofing contractors. From the engineering department, through the ordering process, and all the way to the field inspections preformed by Duro-Last Quality Assurance Reps, the service is outstanding. The high level of service received by Duro-Last contractors not only sets a great example, the Duro Last contractors/installers easily pass the same level of service on to the building owners or property managers having roofs installed. Duro Last supports it's roofing contractors and Duro last contractors support building owners.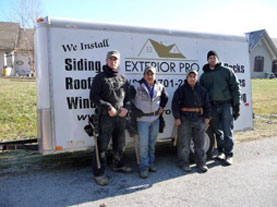 2. Our Crews Love It
Duro Last isn't a flat roofing product, it's a flat roofing system. Our crews love to install Duro Last because they don't have to field fabricate the components and accessories that accompany a commercial roof and then install them, they simply install the parts and pieces of the roofing system. A roofing system is repeatable, trainable, and learnable. Crew members can quickly and efficiently learn how install Duro Last and contribute to the crews success. Happy and positive workers get more done.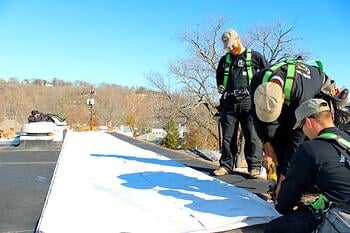 3. Building Owners Want It
The new economy means building owners and property managers demand high quality, leak free flat roofs at affordable pricing. Duro Last contractors are able to meet the needs of the value conscious building owners and give them what they want, a dry building. The demand for Duro Last in Indiana continues to grow with 2013 sales toping over 8 million Sq. Ft. of the flat roofing system installed. The more Indiana business owners learn about the capabilities of the Duro- Last commercial roofing system the more they want it, 2014 sales are estimated to be over 10 million sq. ft.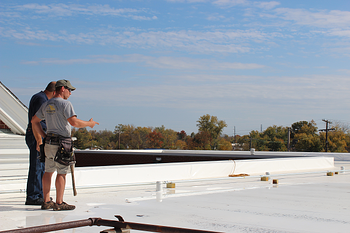 Exterior Pro Inc. is a Duro- Last contractor because it's a winning business model for Indiana flat roofing contractors.