Avoid selecting your roofing product or system based on the associated manufacturer warranty, and instead focus on its qualities and suitability to your building needs. If the roofing system does not perform properly, a long-term warranty may be of little value.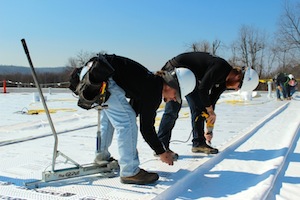 Some reasons to give little weight to long-term warranties include:
Many warranties are marketing gimmicks and aren't established based on appropriate technical research or documentation of in-place field performance.
Increased liability risk leaves some manufacturers no longer capable of honoring their warranty commitments.
Even the most comprehensive warranties cover only repairs that result from specific causes detailed in the warranty.
Long-term warranties are reactive rather than proactive.
Building Owner Considerations
Instead of dwelling on the length of the warranty, purchase from manufacturers who:
Market their product using the relevant and proven merits of the products and systems best designed to serve your needs.
Base their warranties solely on honest and realistic appraisal of their product.
Clearly state recommended and required owner maintenance responsibilities.
Ultimately, your building will be best served if you select the roofing system that is ideal for your specific situation. This is where working with a contractor you trust can pay dividends, as they'll guide you through the process.
In addition, by purchasing a well-designed, well-constructed and well-manufactured roofing system, you many not even need a warranty.
Everything Building Owners Need to Know When Selecting a Roof
It's all in this free ebook, The Building Owner's Guide to Roofing. In it, you'll learn how to select the best contractor, roofing membrane and warranty for your needs. Download it today.