Every day that our skilled roofing teams provide services to commercial or residential property owners, we offer long-term, guaranteed roofing solutions, as opposed to conventional quick-fixes. It's our mission to be your sole partner in roofing repair and installation, and we plan to achieve this by offering the best roofing services in the industry for the right price.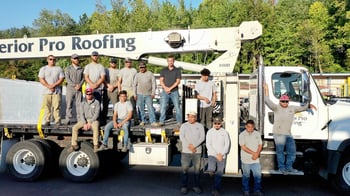 In 2001, Aaron Perry sought to create a professional roofing company that avoided the conventional pitfalls of others in the industry, such as poor customer service, budgeting and business organization.
By 2006, Jami joined Aaron and the company became Exterior Pro Roofing, now known for the long-lasting roofing solutions it provides for businesses and homeowners in Southeastern Indiana and the Greater Louisville, KY areas.
At Exterior Pro Roofing, the process we use for providing our community excellent roofing installation and repair is simple, and intended to make sure our professional services align with your roofing needs:
Phone assessment: a quick introductory call outlining your needs as well as our services, budgeting, and potential project timeline.
In-person consultation: expanding upon the phone assessment, a more detailed discussion into project logistics, measurements and scope.
Proposal: at this stage, we present an official project proposal including payment schedule, sample materials, job site logistics and pre-planning.
Finalizing your plan: with an accepted proposal, we will be able to finalize a starting date for your roofing project, and work closely with you to create a detailed project plan.
Whether you're a residential roofing customer or a local business owner, our team of qualified roofing experts will work alongside you to build a successful project plan. Keeping you informed throughout the project process, we promise to complete all roofing repair and installation projects with minimal interruption, and at a fair rate for our service quality.