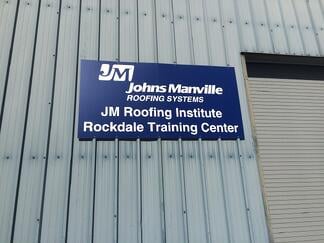 The flat roofing crew at Exterior Pro Inc from Madison Indiana recently attended a 3 day training course from Johns Manville. The hands on course taught TPO and PVC roofing specs, guidelines, and best practices. Johns Manville is a manufacturer of roofing membranes and insulation and offers training for its network of certified installers. TPO and PVC membranes are used in flat roofing applications.
Roofing crews from across the country meet in Rockdale Illinois at the Johns Manville training center to attend the workshop.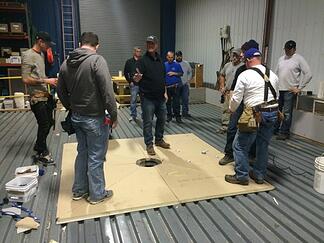 The course taught working foreman and roofing crew members how to install TPO and how to field fabricate flashing for curbs and stacks as well as drains and wall flashings. "We learned the right way to install the TPO but we also learned a lot of time savings tips and tricks" said working foreman Gregg Martin of Exterior Pro Inc.
The trainer conducting the class had been a union roofer for 20 years in Chicago, an independent roofing contractor for 5 years and a flat roofing teacher at the Johns Manville Roofing Institute for the last 12 years. "Henry has a wealth of knowledge" said Aaron Perry, the owner of Exterior Pro Inc, "it was one of the best roof training workshops I have been at."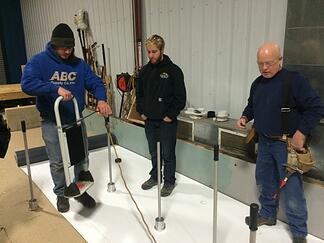 Roof insulation, proper drainage and roof edge metal trims were all discussed and taught during the course.
The training also included learning how to use a walk behind welder and rhino bond induction welding system. A walk behind welder is a machine used to hot air weld the seams of TPO roofing membrane.