A Metal Roofing Retro-fit is cost effective and high value way for building owners and facility managers to replace a roof without removing the existing metal or disrupting the activities inside the building.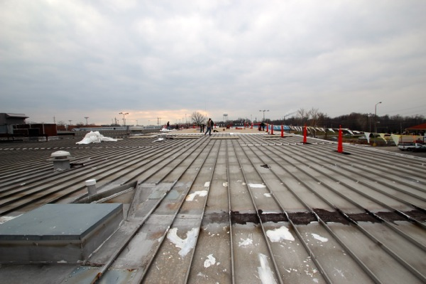 What is a Metal roofing retrofit?
To retrofit something means to add technology or new features to an existing system; to upgrade an existing thing or system but not remove or replace the existing thing or system. A metal roofing retrofit is then adding components or technology to an existing roof in order to upgrade it or make it without removing the existing metal. The components added are ridge insulation and a single ply membrane. A retro fit happens when you leave existing metal on the roof in place and cover it with a single ply membrane. The membrane used is most often a PVC or TPO roofing product.
How is this done?
Ridged insulation is cut and placed in the flutes of the metal, this is the area between ribs or standing seams. This insulation will be the same height or slightly taller than rib or seam. Next a second layer of ridge insulation is in order to create a flat surface and to increase R-Value. The Duro Last commercial roofing system is then mechanically attached to deck over top of the insulation. Prefabricated flashings for stacks and other roof penetrations are installed and hot air welded on site to create a monolithic covering and a water tight roof.
Why Retrofit and not just replace the old metal?
Cost. A metal retrofit saves a building owner money in three ways, 1. the ridged insulation and membrane are much less expensive than new roof, 2. the labor and clean up of an expensive tear off is saved, and 3. any insulation the building already has remains in place and doesn't have to be repurchased and installed.

It's business as usual. Because the existing roofing system is not removed, the building is never exposed to the elements and can continue to operate and function without interruption. The metal roof retrofit system is installed without loud equipment or hazardous chemicals and can be installed year round.

It's quick, clean, and easy. Retrofits are installed quickly, efficiently, and with very few seams thanks to prefabricated sheets. The membrane is fabricated to fit your building and can be installed in sheets as large as 2,500 sq. ft. This greatly reduces the amount of seams on a roof. No tear off means no debris or disruption to parking, loading, or customers areas surrounding building.
What type of buildings are best suited for a Metal roofing retrofit?
Retrofits can be installed in a variety of commercial and industrial applications. From flat or low slope roofs all the way up to about a 6-12 pitch.