Indiana is home to some great commercial roofing companies. Hoosiers are smart, hardworking, and definitely not afraid to get their hands dirty, all required traits to being a top notch roofing contractor.
Here is the best of the best, a list of the Top 3 commercial roofing contractors in Indiana in 2014. And the winners are …. Drum roll Please!
Indiana Roofing Contractor of the Year - Sentry Roofing of Indianapolis

Excellence in Quality - Exterior Pro Roofing Inc. of Madison

Top Sales Performance - Royalty Roofing of Seymour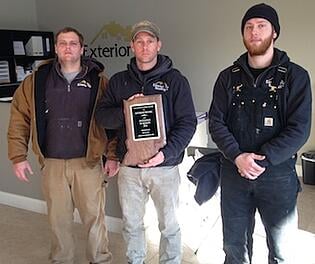 The awards were based on the following criteria: Commercial Roofing contractor of the year award is based on the combination of 1) increase in Sales volume, 2) Quality Assurance rating on installed commercial roofing projects, 3) Overall contribution towards building the commercial roofing industry in the state of Indiana. Excellence in Quality award is based on best over all quality assurance ratings on installed commercial roofing projects. Top Sales Performance is base on over all commercial roofing sales in the state of Indiana.
Sentry Roofing is an Indianapolis based commercial and industrial roofing contractor that specializes in single ply membranes and commercial roofing systems. Sentry has established a reputation of great customer service that has allowed them to expand their roofing business model to the surrounding states. Learn more at www.Sentryroofing.com
Exterior Pro Roofing of Madison Indiana isn't the largest commercial roofing company in the state but they can say they are one of the best. Each commercial roofing project is evaluated for adherence to specs and scored for quality. Exterior Pro Roofing had the highest quality assurance score averages of any roofing company in the hoosier state. Learn more at www.ExteriorProinc.com
Royalty Roofing is a Seymour based roofing contractor that has been on a growth track for the last several years. Recently opening offices in Kansas and Oklahoma Royalty Roofing is eagerly taking its brand nation wide. Learn More at www.Royaltyroofing.com
Honorable Mentions
Other Indiana commercial roofing companies dedicated to quality, customer service, and Professional Roofing:
Pell Roofing
Borntrager Roofing
Skyline Roofing
Consolidated Contracting
Innovative Roofing Solutions
IRC Roofing
Complete Commercial Roofing
S.T.A. Roof Tech
Reflective Coatings
Rich Roofing
Arion Roofing
Lighty Contractors
Find a reputable commercial roofing contractor in your area