Duro-Last has been manufacturing products to meet the needs of the roofing industry since 1978. From prefabricated Duro-Shield roofing membranes to specialized membranes and insulating panels, the company provides roofing solutions to make flat roof repair and protection an easier process for everyone involved.
Membrane Systems
The Duro-Shield metal retrofit roofing system is a prefabricated membrane, customized to fit an individual roofing system. This product is designed to be installed over a failing metal roof and prevent water penetration. Duro-Shield and other Duro-Last membranes offer chemical, fire and high wind resistance.

Cool Zone and a Vinyl Rib membrane system are two other options available from Duro-Last to meet different roofing needs. Cool Zone meets the requirements for a sustainable roofing system and provides high-performance results. The Vinyl Rib system provides an architectural standing seam appearance and is excellent for use in areas with higher snow amounts.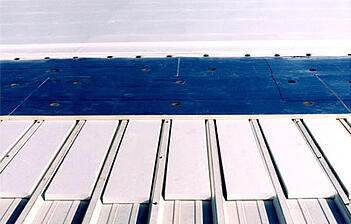 While white roofing systems offer energy efficiency, membranes are available in several color choices. The Rock-Ply roofing membrane replicates the look of a stone roofing ballast while still providing the superior durability of all Duro-Last membranes. There are no stones that can move, to expose the underlying membrane, or cut through the material.

Insulation Panels

Duro-Guard EPS and ISO insulation panels are designed to work with the Duro-Last membrane system and offer higher Long Term Thermal Resistance (LTTR). These panels also contain no HCFCs or CFCs and meet EPA requirements.

Insulating systems are installed in the flutes of an existing roof, with a second layer of insulation on top, to form a smooth even surface. This insulation reduces heat loss in colder weather and prevents the condensation that can occur from a cold exterior surface and warm interior.
Duro-Guard Sopravap'r is a vapor barrier membrane that can be added to other Duro-Last roofing systems. Sopravap'r is self-adhesive and self-sealing. Duro-Guard Elastocol Stick is a primer manufactured with synthetic rubber and natural resins. Elastocol Stick increases the adhesion of Sopravap'r to concrete, wood, masonry and gypsum.
Flat roof replacement or major overhauls are no longer the only options when an existing metal roof begins to fail. Duro-Last roofing membranes simplify flat roof repair and provide years of reliable protection against the elements.