A Duro-Shield metal roof retrofit provides your building with a long-term alternative to costly metal roof replacement. Sealants or roof coating systems do provide protection, but these solutions do not last as long. As your metal roof expands and contracts with temperature changes, the coatings will crack and begin to leak. When you are looking for a cost-effective, durable metal roof repair, consider having a Duro-Shield membrane installed.
Duro-Shield installation process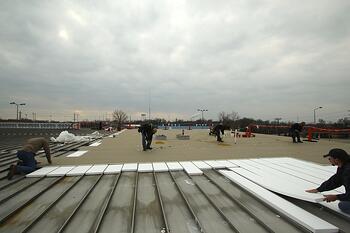 The Duro-Shield membrane system is applied over your existing metal roof. No tear off is required and the interior of your building is not exposed to the elements during the process. Your existing roof will first be evaluated by an expert and measured to allow for manufacturing of the customized membrane.
Insulation panels are cut and installed into the flutes of your existing metal roof. A second layer of insulation is then added on top of the first layer, which ensures a flat surface for membrane installation. This second layer increases the total R-value and protects the interior of your building from condensation and drips that occur from temperature changes between the roof exterior and the interior of your building.
The pre-fabricated membrane is then installed over these layers of insulation. The pre-fabrication means that over 80 percent of the seaming process is completed before the Duro-Shield membrane reaches your roof. This includes pre-welded fasteners for mechanically attaching the system.
Membranes for flashing and roof penetrations are then installed and heat welded onsite providing you with a roofing system that has no seams to worry about. There will be no gaps or cracks around penetrations that can begin to leak and you no longer have to worry about your metal roof rusting or corroding.
The standard warranty for a Duro-Shield metal roof retrofit is a comprehensive 15-year, no dollar limit guarantee with no ponding exclusions. This warranty is transferable to a new building owner. A 20-year warranty is also available. Talk to a professional today to understand all of the benefits of a Duro-Shield metal roof retrofit repair today.