Duro-Last roofing is sold and installed by a certified network of Commercial Roofing Companies across the United States. Duro-Last roofing is installed on new construction projects but has become know as predominately a re-roofing product because of it's ability to be installed overtop of other types of flat roofing systems. Roofing contractors can glue down (fully adhered) the Duro-Last membrane or screw it down (mechanically attached) with screws and plates. But is most often installed mechanically attached.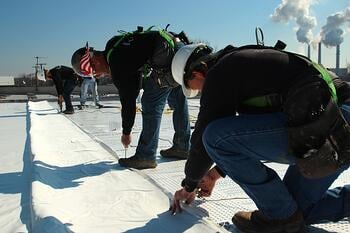 For the sake of figuring cost averages Let's assume:
That Duro-Last is being installed in a re-roofing application over top of an existing Flat roof
The existing flat roof is not being torn off
That Duro-Last is being mechanically attached
Price range reflects the differences in labor markets in different regions of the country.
Check with your local Duro-Last Roofing Contractor for more exact pricing in your area.
FLAT ROOFS
For buildings with simple roof designs that have either a wood or metal deck you should expect to invest approximately $2.50 - $3.75 Per SqFt. to have Duro Last installed. Flat roofs in this price range will have minimal roof penetrations, few HVAC curbs, and be fairly wide open with easy access. Metal Edge trims such as coping caps, Drip Edge, and 2 pc compression metal may or may not be included in this price depending on the size and quantity.
Expect to spend and additional $1.00 - $3.00 per SqFt. if the building has a concrete deck. Concrete, light weight concrete, and tectum decks must be pre-drilled in order to set fasteners and slow roof top production and require additional fastening components.
Examples: Office Buildings, Shopping Centers roofs, Retail outlets, Banks, Factory roofs, hotels, Church roofs, and warehouse roofs
METAL ROOFS RETROFITS
A metal roof retro fit is when Duro Last is installed over top of an existing metal roof and is a great alternative to metal roof coatings. Insulation is cut and placed in the space between the ribs of the metal roof panels. Then another layer of insulation is used to flatten out the surface so the PVC membrane can be installed. Expect a Metal roof retro fit to cost somewhere between $2.75 - $5.00 per SqFt. installed depending on the type and size of the insulation you choose.
Examples: Steel buildings with metal roofs, Warehouse roofs, Old Standing seam metal roofs, Light industrial roofs
RESTAURANT ROOFS
Duro-Last is the Flat roofing membrane of choice for most major restaurant chains. Red Lobster, Olive Garden, Burger King, Dairy Queen, Taco Bell, Buffalo Wild Wings, KFC, McDonald, Panda Express, Bob Evans and many more. Duro Last is one of the few flat roofing membranes on the market that can withstand the grease and animal fats found on restaurant roofs. Expect an investment of $3.75 -$6.00 to replace a restaurant roof with Duro-Last. This price will usually include the decorative coping caps and metal trims needed to match restaurants chains colors and facade.
INDUSTRIAL ROOFING APPLICATIONS
Industrial and factory roofs with high foot traffic, many oversize stack flashing, class A fire ratings, large number of curb flashing, extreme temperatures, and roofs that are difficult to access will cost in the range of $3.50 - $7.00 per SqFt. Installed.
SCHOOLS, UNIVERSITIES, AND MILITARY BASES
Municipal and Government roofing projects are often specified by an architect and will include roof insulation packages, recovery board, and vapor barriers. In many cases these projects are prevailing wage jobs and can cost between $6.00 -$12.00 per SqFt. depending on the roof specifications and labor rate.
See Why Duro Last Roofing is Unique among other roofing manufactures here.