Are you looking for a commercial roofing contractor? If so, you'll want to perform a little due diligence before making any hiring decisions.
Finding a reputable commercial roofing contractor is just as important as any other part of the job. Hire the wrong roofing company and your project could be headed for disaster.
Take some time and do the proper research needed in order to make an educated decision about which commercial roofing company you want to hire.
Here are a few things to look for while searching for a reputable commercial roofing contractor.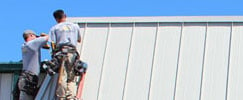 Ask your chosen roofing company if they're licensed with the State Licensing Board. After you receive their license number you'll need to verify the information they gave you. Some insurance companies won't approve a claim if you used an unlicensed contractor for your project.
Your roofer should have workman's compensation and general liability insurance. Before beginning the project, they should provide you with a copy of their insurance that has their name on it, as well as, the name of your project - including the address.
Ask your roofing company for their legal name and verify their standing with the BBB (Better Business Bureau) It's in your best interest to find someone with an A+ rating.
Request references and check them. You'll also want to check out their online reputation as well. Look through several different sites to make sure you're getting an accurate picture of their reputation and how they handle disputes.
Look at the company's social media pages as well. Look at websites such as Facebook, Twitter, LinkedIn and YouTube to see how well they interact with their customers and to make sure your dealing with a professionally run outfit.
Most importantly, you'll need to confirm the company you hire has the experience needed to complete your job. You don't want to hire a roofing contractor whose specializes in repairs when you need a company who specializes in a Duro-Last commercial roofing system.
Find out how long they've been in business and how much experience and training their crew has.
Inquire about whether or not there will be a crew supervisor onsite at all times. You don't want to be responsible for overseeing their crew and should a problem arise, you'll want someone there who can make a decision on the spot.
Please contact us if you're in need of a reputable commercial roofing contractor. We have an A+ rating at the Better Business Bureau and our manufacturer warranties are among the best in the industry.