If you own a commercial building, you may be wondering why you should consider EPDM rubber roofing to help protect it. Here at Exterior Pro, Inc., we are often asked this question, which is why we would like to ensure you know the benefits.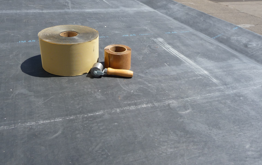 One of the biggest advantages to EPDM rubber roofing is the fact that it can be placed on a variety of surfaces. As such, it is commonly used on commercial buildings, homes, RVs and mobile homes with a great deal of success. It can also be placed on roofs of any shape, in addition to being added to the flashing and verticals.
EPDM is an extremely durable product that can withstand harsh weather conditions as well as extreme changes in temperature. When properly applied, this product has an extremely long life, and can often be expected to last up to 50 years.
It takes very little time to apply EPDM coating when compared to other similar products. As a result, having it placed on your roof can be very cost effective, as less labor and materials are required for installation. In many cases, the most time-consuming aspect involved is cleaning the roof's surface prior to adding it.

A number of high-profile businesses have already chosen EPDM coating over the past 25 years. A few of these businesses include:
JFK International Airport
Kennedy Space Center
Gillette Stadium, home of the New England Patriots
NASA
Dallas/Fort Worth International Airport
Kohl's Department Stores
Applebee's Restaurants
Quality Inn and Suites hotels
EPDM rubber roofing provides superior results at a fraction of the cost of other materials, making it an excellent choice for a number of different structures. To find out more about the benefits of this great product, contact us.