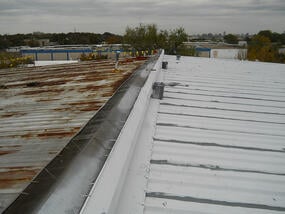 An important part of owning a metal roof is having it covered with a coating that will last and be effective. There are a wide variety of coatings that can be successfully utilized. Everything from water-borne acrylic to rubberized aluminum and more are effective metal roof coatings. Other types of coatings can be distinguished by the primary resin used. There are certain circumstances where it is important for a metal roof receive a re-coating.
According to an article in Metal Construction News, "Regardless of the original finish, long-term exposure to the elements will deteriorate the protective finish...rust will begin to form and over time will compromise the structural integrity of the roof, and negatively affect the aesthetics of the building. All metal roofs expand and contract with temperature fluctuations."
Re-Coating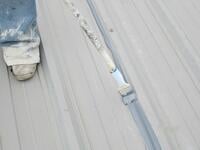 After a period of time a metal roof can begin to lose its appeal. When its coating begins to peal away or surface rust is detected, a re-coating can extend the roof's usefulness. Re-coating may be necessary when a metal roof begins to start fading or chalking. In some cases building owners will have their metal roof re-coated because they want it to be a new color. A re-coating is also better for the environment as it keeps certain typesof waste materials from being put in landfills.
Benefits
Re-coating a metal roof is more cost effective than replacing it. There is also less work involved with a re-coating and it can be done much faster than a replacement. When a metal roof is re-coated there are no disruptions to what happens in the building as there is with a replacement. There is also significantly less dust and rubbish created during the process. Some states also offer tax benefits for re-coating a metal roof.
Re-Coating Issues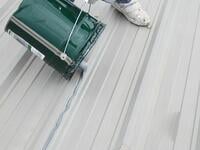 If the goal of a building owner is to change the color of their metal roof or provide better protection then re-coating will be the best course of action. It is important to be certain the re-coating contractor has all the necessary licenses and references. Knowing if the coating system manufacturer has a good reputation for their product is also essential.
If you would like to know more about metal roof coating and re-coating we can help. Contact us today and learn more.