When you need to restore or repair a flat roof, you want a system that will offer you the longest lasting results and the best protection. Roof coatings do offer protection, but require continual maintenance and recoating. A Duro-Last roofing system provides you with an alternative to a complete flat roof replacement while restoring your roof to its original protective function.
Duro-Last vinyl membranes are a thermoplastic formulation that is manufactured to provide a durable, watertight sheeting material. The manufacturing process includes flame-retardants and U.V. absorbers. The single-ply membrane remains flexible through temperature variations and meets or exceeds all major wind and fire code requirements.

The roofing membrane is prefabricated at the factory to reduce onsite seam welding and make the installation process easier. The custom work includes stack and curb flashings, further reducing field labor and potential for leaks. Prefabrication reduces the onsite labor for flat roof repair by up to 85 percent; this also reduces the potential for errors in installation that are the main cause of roofing failures.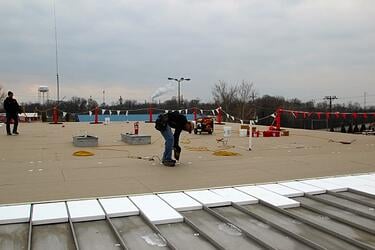 Prefabrication of the Duro-Last roofing membrane also means that installation can be completed at any time of year. With less work required in the field, adverse weather is not an obstacle. Seam work done on the rooftop is completed with hot air welding, which is not hindered by damp or cold weather.

A custom manufactured membrane benefits both the building owner and the environment by producing less waste. Only the required amount of material is ordered. Duro-Last roofing systems also improve energy-efficiency and a Cool Zone membrane is one choice for a reflective white roofing solution.

You can also choose to change the appearance of your commercial rooftop with the same protection of the Duro-Shield membrane system. Duro-Last Shingle-Ply is a single-ply, thermoplastic watertight membrane that creates the look of shingles. The design is imprinted onto the material and a polymer coat is added to keep the appearance from fading or marring.

A Duro-Last Rock-Ply system creates the effect of a stone ballast with the same imprinting and polymer protective coating. The Shingle-Ply and Rock-Ply membranes come with the superior industry leading warranty that all Duro-Last roofing systems offer. Talk to a professional today to learn about all of the benefits that Duro-Last has to provide.