Maintaining your commercial gutter system is not a difficult process, but it is an important one. Poorly maintained gutters will fail and can cause significant damage to the property. You should also consider the investment in your commercial guttering; proper maintenance will protect both your building and the investment you have made.
Inspection
Commercial roofing should be inspected yearly, in some cases twice a year inspections are recommended. When you roof inspections are being performed, your guttering systems should be done. A commercial service is your best choice, but your own personnel can do the job if they have the required experience.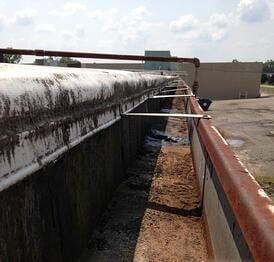 The inspection should include checking for blockage and corrosion damage. Gutter hangers and any support systems are critical in ensuring that your guttering does not pull away from the roof. Loose or rusted connectors can be replaced during an inspection to prevent problems in heavy rains.
Make sure that any guttering inspection includes checking for breaks or separations along any seams. If problems are detected early, they can often be repaired. Downspouts must be checked to make sure that they are securely attached and drain far enough away from the foundation.
Downspouts and splash blocks can normally be inspected from the ground, which allows for inspections that are more frequent. Because of their location, they are more prone to damage. Do have someone check these items on a monthly basis. If a part has been knocked out of position, having it restored is an easy process. Ignoring it will lead to flooding.
Cleaning
Commercial gutters do require cleaning. The larger openings allow more debris to enter. For buildings that do not have large trees overhead, the cleaning process can be performed less frequently. Buildings that tend to accumulate leaves, pine needles and other debris will need cleaning twice a year.
Early spring and late fall are usually the best times to have this work completed. This will reduce the blockage that interferes with run-off during spring rains and help reduce the possibility of ice formation during winter months. Inspect the ends of downspouts and clean out any accumulated debris, especially in areas with heavy foliage.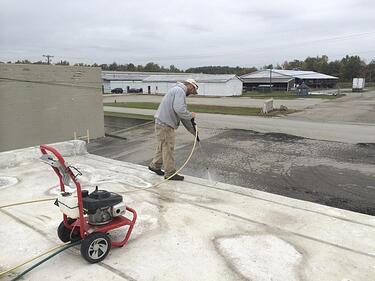 Commercial gutter guards can be installed to help keep excess debris from entering the system. Cleaning can also be performed to keep the guttering looking new. Mold or mildew can build on the exterior and become unsightly.
If you have questions regarding the maintenance your commercial gutters require, ask the professional who installed them. A commercial gutter company will be happy to provide you with the information you need and may be able to provide you with a service package to make the process worry-free.