There are many PVC flat roofing membranes in the market today that last just as long, that are just as puncture resistant and are as heat reflective as Duro-Last. Yet, the Duro Last commercial roofing system remains the best value in its class, why? What makes Duro Last so special?
---
Best accessories in the roofing industry
Great roof accessories are a must because it is where the most flat roof leaks occur.
One thing that separates Duro Last from every other commercial roofing membrane manufacture are its custom accessories. Duro Last understands that this is where most of the problems in flat roofing start. When employees have to fabricate these flashings and accessories in the field, they do it under time pressure, in extreme temperatures and in dirty, messy environments and as a result quality suffers.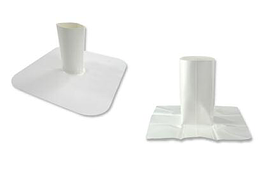 All of Duro Last accessories such as stack flashings, curb flashings, pitch pockets, drain flashings, and parapet wall flashings are all completely customizable. The shape, design, length, width, height, color and mil thickness can all be adjusted to fit each circumstance flat roofers encounter in the field.

Metal edge trims and copings

Duro Last also manufactures the widest variety of metal trims, scuppers and guttering to accompany their flat roof system. Edge details created to accent roofs in every application from drip edge to metal trims over parapet walls, and even trims that follow a radius wall are readily available.
Highest Quality Roofing Contractors installing Duro Last
Because the No 1 reason roof systems fail is improper installation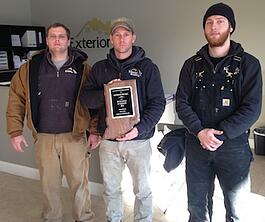 The Duro Last membrane reaches the flat roofing market place via its network fo certified Dealers-Installers. The PVC membrane is not sold in any other way. It means that every time a Duro Last job is installed it is being put down by a trained roofing contractor. Duro Last is very particular about who is eligible to become a certified roofing contractor and only chooses professional roofing companies with track records of outstanding performance and service.
Most quality assurance tech of any roofing manufacture
Duro Last has the field staff in place to service building owners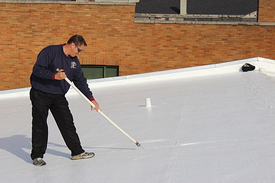 Although Duro Last has one of the best trained and most professional base of roofing contractors in the country installing its product, it still insist on inspecting every single commercial roofing project. These inspections are performed by field based quality assurance technicians. Duro Last maintains the largest number of QA techs of any flat roofing manufacture to ensure that warranty claims, roof leaks and field inspections happen in a timely manor. Most other roofing manufacture will employ one QA tech that will handle several states, Duro Last employs several QA techs in each state.
Duro Last roofing is much more than a stand alone PVC roofing product, it is a complete commercial roofing system installed by professional roofers and backed by the largest number fo Quality Assurance techs in the roofing industry.