Standing seam metal roofs have been available for quite some time. Modern roofs of this type were developed in the 1960s. However, metal roofs have been traditionally used in commercial or elaborate residential applications. The value of the standing seam metal roof has brought about a change with the benefits the roof can add to regular residential applications.
Standing Seam Metal Roofs
As the name implies, standing seam construction uses metal as the roofing material, as opposed to asphalt, tile or slate. A variety in metal choices are available including aluminum, copper or aluminum-zinc alloy coated steel.
The term standing seam comes from the fact that the connections between the metal panels are raised above the panels. The seams run vertically, not horizontally, and are created by folding and crimping the edges between the panels.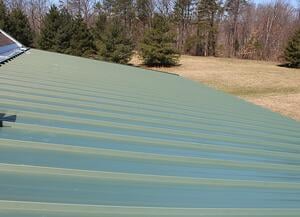 A standing seam metal roof requires very little maintenance. They are available with UL-90 wind-uplift ratings, providing extreme resistance to high winds and a potential reduction on insurance premiums. This type of metal roof also has a Class A fire rating, the highest available. Additional benefits include:
Weather-tightness, the raised seam does not allow water penetration

Fasteners are hidden, no nails or screws are exposed or penetrate the metal

Durability and puncture resistance

Flexibility under drastic temperature changes, the seam system allows for expansion and contraction

Resistance to mold and mildew growth

Does not slough off to clog gutters the way asphalt shingles will over time
In addition, standing seam metal roofing systems are installed over an insulating material for added energy efficiency. This insulation also reduces the noise problems that may be found in some metal systems.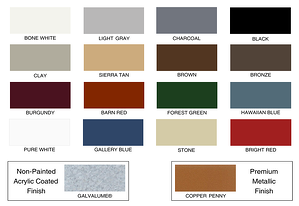 Standing seam metal roofs can be crafted in a variety of colors and add an attractive appearance to a home or business. Lighter colors provide an additional benefit of being considered cool roofs; they resist solar heat gain.
Standing seam metal roofing systems are normally used for roof slopes of 3:12 or greater. However, retrofitting can allow for the use on roofs with less slope. Standard installation can be completed over existing roofing system without the need for shingle tear off.