The RhinoBond roofing system can revolutionized how you install single ply roofing membrane making you more money, allowing for quicker and more efficient installs, and your crews will love it.
Make More Money
RhinoBond will make a roofing contractor more profitable in several ways. You'll put flat roofs on faster so you'll be able to cover more distance and your crew will not work nearly as hard and will be more energetic and happier
Using the Rhino Trac stand-up screw gun to install plates and screws will eliminate the need to constantly bend over will make a worker twice as efficient.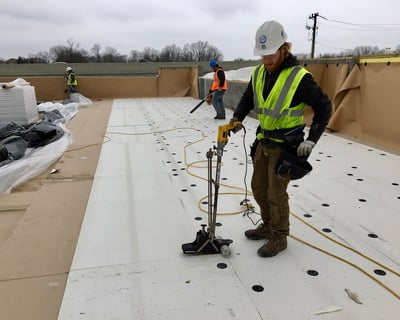 Because the same screw and plate that hold the insulation in place also serves as the attachment for the membrane you can eliminate all the screws and plates you would have needed in mechanically attached system or all the glue and labor you would have needed in a fully adhered job.
All you have to do is screw down the new roof insulation with the rhino bond plate according to the fastening pattern. Then you're ready for membrane.
2 . Finish More Squares Per Day
Now it's time to cover the roof insulation, but since you don't have to glue or screw the membrane, your crew will simply have to kick out rolls of membrane. This turns the usually slow process of arranging rolls into a fast paced activity that keeps the momentum of a job moving, especially during the typical after lunch slowdown.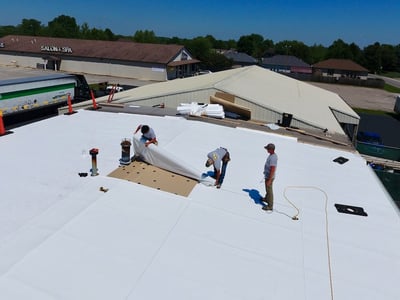 After the sheets are down, it's time to get out the walker-welder and RhinoBond tool. These jobs can all be done at the same time. You can also have a worker start on detail work, such as curb and stack flashings. The goal is for all ISO roof insulation installed that morning to be covered up, all the seams walker welded, metal plates RhinoBonded so the membrane doesn't move around with the wind, and curbs and stacks watertight before the crew knocks off for the day.
3. Your Crews Will Love It!

Imagine what it would be like to have a roofing job where your day didn't consist of bending over 2,000-4,000 times shooting screws and plates. Imagine being able to standardized working hours and production speeds so you can leave work at a decent hour each day around the same time. Imagine how nice it would feel to actually have energy after a long day roofing and be able to throw ball with your kid in the back yard instead of being so sore and tired you pile up on the couch and stare mindlessly at the tv. Lastly, imagine how it would feel to hear the roofing crew leader say "Good job! Man, you guys really knocked out a big part of this job today.", as opposed to hearing " Is that all you got done?"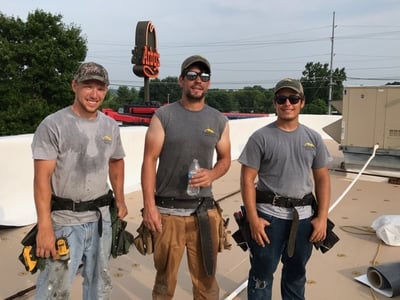 The RhinoBond system will make your people more valuable and will require less physical effort and less stress on their bodies to do it . They'll feel better and make you more money which will make you feel better.
The RhinoBond roofing system truly is a win-win for workers and roofing contractors alike!