Metal Roof Repair or Replacement
As a business owner or facility manager, you may or may not be aware of the many options available when it comes time to repair or replace your commercial metal roof. You can replace the roof with a new one of similar material, investigate other replacement options, or consider various types of repair.
You may be aware of the more traditional metal roof coatings like asphalt and coal tar, but there are newer options that were first introduced in the 1970's that can save you time, money and hassle. Modern metal roof coatings are easy to apply, more cost effective than replacement and look better than the traditional coal tar and asphalt coatings.
Popularity of Metal Roofs for Commercial Buildings
There are over 50 billion square feet of metal roofs installed on commercial buildings in the United States that will eventually need metal roof repair or replacement.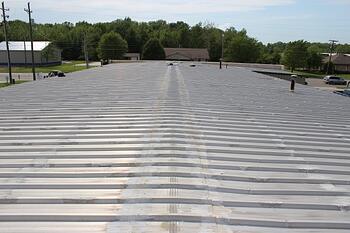 After that, the common problems that lead to the need for metal roof repair include:
Exposure to the elements – wind, rain, snow, sleet and storms
Rusting especially around seems, joints and attachment points
Cracking from sun exposure
Water leakage, ponding and drips in exposed areas
Ponding, drips or leaks which form in those exposed areas
Metal Roof Replacement Options
When considering a replacement strategy, the most obvious choice is to use a material similar to the existing roof. Start by looking at a straight up one to one replace using similar materials and set that as your benchmark cost. Be sure to consider demolition, building codes, environmental issues and other hidden costs in your workup for the full replacement.
Here are the most popular replacement options available:
Metal – Used since biblical times, metal is a popular and durable roof material. Older metal roofs were made of terne – a tin-steel alloy – or copper and they lasted about 35 years. Newer roofs are made of aluminum and usually last well over 50 years.
EPDM (ethylene propylene diene terpolymer), a durable synthetic rubber membrane and or TPO (Thermoplastic polyolefin), a single-ply roofing membrane are popular alternatives that provide heat reflection and energy efficiency. EPDM and TPO are made from recycled material and due to its long life, affordability, and easy installation, are now the most common commercial flat roof choice in the country.
Built-up Roof or BUR, are a hot tar and gravel roof system that has been around for ages. This roofing material is less expensive than the other materials already covered and is a great fire retardant. However, it also has some drawback. BUR is extremely heavy, and often requires reinforcing the roof structure prior to installation, which is an extra expense and delay that adds very little value.
Modified Bitumen - Similar to asphalt roofs, modified bitumen includes polymers that provide added protection and extended lifespan. Bitumen is rolled on to the roof surface and heated with a blowtorch.
Metal Roof Repair and Refurbishment Options
The most cost effective and often the easiest way to fix metal roof problems is using metal roof coatings. Metal roof coatings solve leak problems, reduce cooling costs, and create an easy-to-maintain waterproof system.
Asphalt Emulsion – Originally developed to coat the frames of automobiles, asphalt works very well for coating metal roofs. Roofing contractors now use the same asphalt emulsion and several derivatives to coat metal roofs. These materials naturally breathe and expand with the metal roof itself. They also provide elasticity that was not inherent in the original material.
Metal Roof Coating - Coatings offer a great metal roof replacement option because they are applied directly over the existing roof. Metal roof coating materials include silicone, acrylic, and aluminum.
---
There are many options available when your commercial roof shows signs of wear. Replacement strategies are costly and cause lost work time. Metal roof coatings offer a more cost effective and easier alternative.