Exterior Pro of Madison, Ind., has earned the Elite Master Contractor Award from Duro-Last, a Michigan-based roofing-system manufacturer.
The award means that the local company, owned and operated by Aaron and Jami Perry, ranks in the top 12 percent of all contractors in North America who install Duro-Last products.
In 2014, Exterior Pro installed more than 150,000 square feet of Duro-Last products, scoring 92 out of a possible 100 points in quality-assurance inspections, which placed the local contractor in the "outstanding" category for "commitment to quality, dedication to detail and hard work," according to a letter from Duro-Last president Thomas G. Hollingsworth.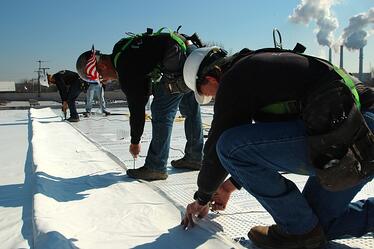 Additionally, the contractor gets high marks from Building Construction Products Co., a La Porte, Ind.-based firm that supplies Duro-Last products to Indiana contractors.
In BCP's books, Exterior Pro ranks No. 5 among Indiana contractors in 2014 sales, No. 2 in 2014 sales increases and No. 2 in BCP's quality-assurance scoring.
"Exterior Pro is a great contractor for us," said BCP President Brad Podojil, who has worked with the Perrys for several years. "Aaron is part of an elite group of contractors in Indiana and in the United States and North America. He is in our Top 15 for the state of Indiana and ranks in the Top 300 of the 8,000-plus [Duro-Last contractors] in North America."
While proud of Exterior Pro's accomplishments in the past year, Aaron Perry said the numbers only tell part of the story. He credits his company's success to its commitment to providing continuous training for his four full-time and two part-time employees, as well as for himself and Jami.
"I invested in myself first," Perry said, explaining that he first hired a business coach to help him learn how to grow the company and improve his own skills as a boss and a leader. "It was expensive, but it was worth it."
Jami Perry also has completed management training programs and secretary Becca ... has completed sales and human resources training.
At the recommendation of his coach, Perry also invested in training programs offered by the National Roofing Contractors Association for his roofing crew. His Exterior Pro employees view the DVDs on their own time, print off the homework assignments and take graded tests. Those who pass earn certification cards for each skill they master.
"Most of our employees come to us unskilled. One guy was a sandwich maker at a fast-food restaurant before he came to us," Perry said. "He came in with zero roofing experience. Thanks to the training we provide, he's now our top employee."
Perry said his employees also take personality tests so that he, as a boss, "can understand each one's strengths and weaknesses. That way, we know what drives them and we can coach them according to their individual personalities. This training is very personalized, and it's working."
The training also involves personal-growth skills, such as setting and attaining goals – skills that spill over into their personal lives outside of work, as well, he said.
While most people who go into the construction industry typically never aspire to a college education, the continuing education program has taught Perry one important lesson: "We've found that everyone wants to learn. ... At first, they were hesitant. Now they can't get enough."
With Exterior Pro's investment in their training, "they feel like they matter. They do better. We see day-to-day improvement, which you don't normally get in construction," Perry said. "Everybody wins."
Mark Johnson, building inspector for the city of Madison, said he's known Aaron Perry for about nine years and has, in the past, worked with him as a contractor.
Johnson has seen first-hand the work Exterior Pro has done replacing traditional shingle roofing on houses and commercial buildings in downtown Madison, as well as their work replacing the roof on the Brown Gymnasium, using the Duro-Last membrane roofing systems they normally use for the larger commercial jobs.
Johnson said he isn't surprised by the accolades Exterior Pro is receiving.
"Aaron is always very professional," Johnson said. "He's very intense, very thorough. All of his guys are very courteous. They know what to do, and they don't stand around waiting for him to tell them. They get out of their trucks and get to work."
Perry said he will continue investing in his employees' training. "You have to have a good team of people around you. ... [The awards and kudos] are a by-product of a good company culture. We want this to be a place where people want to work ... to make it a career. And everything they learn, they can take with them."
Founded in 2006, Exterior Pro specializes in replacement roofing for commercial buildings ranging from 40,000 to 60,000 square feet in Southeastern Indiana and the Greater Louisville, Kentucky, area. Exterior Pro also installs residential roofing and siding. For more information about their products and services, as well as past projects, visit ExteriorProInc.com, call (855) 274-0444 or send an e-mail to info@exteriorproinc.com.