Gain general knowledge about metal roof repair cost and the factors that influence the price of roof repairs. For more detailed repair estimates based on your specific building's metal roof, we strongly recommend that you invite us out to do a site visit and free evaluation or have a reputable roofing company in your area look at your metal roof repair project.
Targeted Use of Metal Roof Sealants and Metal Roof Coatings
Just because a metal roof starts to leak doesn't mean that the entire roof is bad or needs to be replaced. Many times leaks can be found and fixed using the correct metal roof sealant or by replacing screws or tape sealer. Metal roofs that were installed correctly and that still have service life remaining, fall into this category.
Targeted specific leaks on metal roofs is the least expensive type of repair because it is isolated and usually confined to specific area. Our skilled roofers can usually track down a leak to its source and make necessary repairs within the first visit.
Minor metal roof repairs that can found and fixed during the first trip out usually cost somewhere between $200-$600 depending on the length of time spent on the building and amount of material used to make the repair. More difficult or mystery leaks that require follow up trips to completely eliminate will cost more but how much more will depend on the following factors:
Amount of leaks to be stopped
Size of the leaking areas
Accessibility to roof
Amount of materials needed to make repairs
We will work within your budget and help you prioritize leaks based on importance and estimated cost to stop the water intrusion into your building.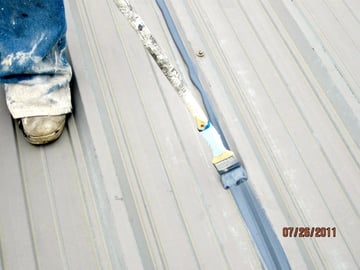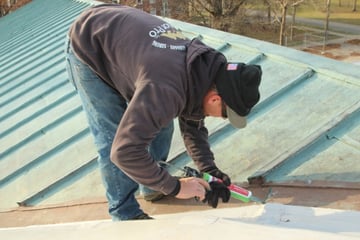 PVC Metal Roof Recovery System
Our best overall metal roof repair option available to building owners and facility managers is to recover the existing metal roof with PVC membrane. Not only does this repair method lock out leaks for the long term, it cost far less than trying to remove and replace a metal roof. At a mid range of $2.75-$4.00 per sq. ft. installed the metal roof recovery system is hard to beat. Factors that drive cost are:
Size of area of metal roof to be recovered, larger jobs usually have lower price per sq. ft.
The amount of insulation added to the building. You can add only the minimum or add more to achieve a desired R-Value
Number of roof penetrations such as HVAC units, stack flashings, or exhaust vents
Duration of the warranty of the PVC membrane, 15 year, 20 year, or 20 plus years
Recovering your existing metal roof with a PVC membrane is a great way to get a long lasting and leak free roof that fits into your budget.

Metal Over Metal Recover
The higher cost of $7.00-$10.00 per sq. ft. installed is well worth the price for those who won't have anything less than the strength and durability of a standing seam metal roof on their building. The performance and long life of standing seam metal is unmatched in the roofing industry and having it installed on your building ensures decades of service life.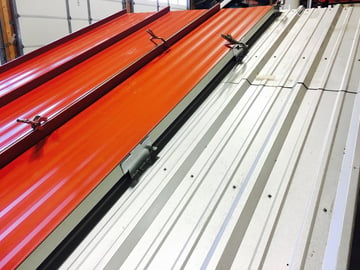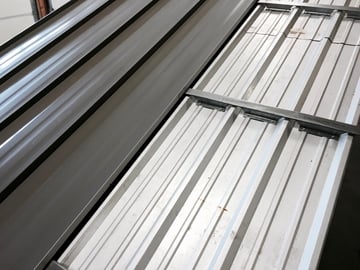 Factors that drive the cost of metal over metal recover:
Profile of your existing metal roof and whether or not sub purlings are needed
Type of standing seam used to recover existing metal
Adding insulation to building
Installing a standing seam metal roof on your building is an investment you won't regret.
Not sure which option is right for your metal roof? Download our Guide To Metal Roof Repair to learn about repair options and how they may be a fit for your building.