At first glance it seems like there are literally hundreds of flat roof repair options and products on the market. It can be a daunting task to sort through page after page of information about the features and benefits of each product and each commercial roofing company has a different solution as to how to best repair your flat roof. But at the end of the day, there are really only three options.
Fix the roof you have

Recover the roof you have with a new membrane

Tear off your old roof and start over
Fixing the roof you have with targeted repairs
Going after specific leaks on a flat roof is the least expensive repair option averaging somewhere between $200-$600 dollars depending on how hard the leak is to find and the amount of material required to fix it. Budget more for large sized flat roof repairs and maintenance projects which require more flat roofing material and more labor to get building dry. However, the great thing about targeting specific flat roof leaks, especially if you have more leaks than money, is that you can prioritize repairs. For example, you may want to make good use of a limited budget by tackling leaks in your showroom first, then if able to move onto leaks in the shop area where they are important but not as important as leaks in the showroom. Prioritizing roofs leaks can be a great way to maximize a smaller budget.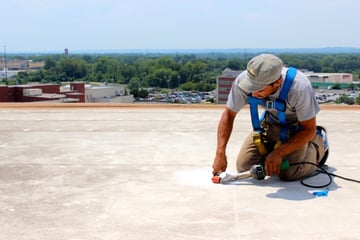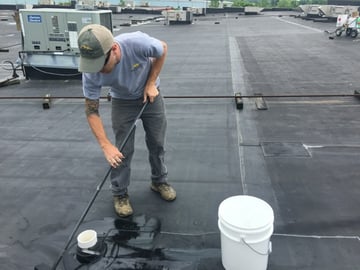 Recovering your existing flat roof with a PVC membrane
Recovering a roof with a white, PVC membrane is the best value flat roof repair option on the market today. Ranging from $2.50-$4.00 per SqFt. installed it's a long term solution, 15 or 20 year, and much less expensive than a flat roof tear off. PVC recovers give you the most bang for your buck. Keep in mind the parapet walls can also be recovered with PVC stopping leaks in and around masonry walls and caps. New metal trims such as metal coping caps or 2 piece snap metal edging can also be used to enhance building appearance and curb appeal. You can even add insulation to the existing roof system during a recover.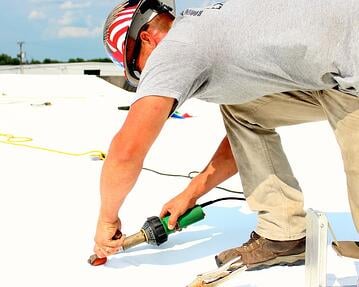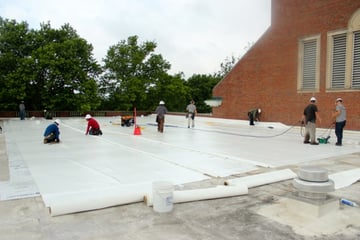 Factors that drive the cost of a PVC flat roof recover:
if adding insulation to the building

new metal edge trims or coping cap

size of flat roof to be recovered

how "wide open" a job is or how many HVAC curbs, stack flashings, and roof drains there are
Flat roof tear off
Tearing off a flat roof and starting from scratch will be your most expensive flat roof repair option averaging somewhere between $4.00-$8.99 per SqFt. installed. Tear offs cost more not only because they require more labor and dumper fees, but also the roof insulation must be replaced and insulation is expensive. But choosing to skimp or not insulation at all will cost you in building performance and high heating and cooling cost in the long run.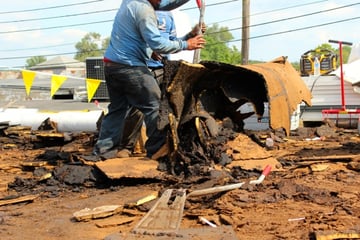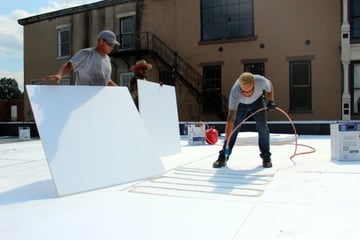 Factors that affect the cost of a flat roof tear off:
number of layers and type of roofing to be removed

how much insulation will be installed

does any decking need to be replaced