Finding the right flat roof repair option for your building to stop leaks and stay in budget will require some thought, some good advice from knowledgeable roofers, and some investigation as to what your best route might be . So the next time you're moving equipment, inventory or personal around roofs leak or hanging tarps inside to re-direct the drips, consider these three flat roof repair options.
PVC Flat Roof Recovery System
Recovering your existing flat roof with a PVC membrane is one of the highest value flat roof repair options on the market today. Not only does the white membrane stop pesky leaks, it can be installed over top of your current roof saving you the cost, mess, and building disruption of a tear off. To put it into perspective, a roof tear off usually accounts for about 50% of the over all cost of a flat roof repair project. The cost savings added, the fact that your building and its contents are never exposed to the elements, and the 15 or 20 warranty make a PVC recover an outstanding way to cut flat roof repair cost without cutting corners.
So you can lay over your existing flat roof and save up to 50% on flat roof repair? It sounds too good to be true, so what's the catch you ask? Your existing flat roof must NOT be saturated with moisture. The flat roof recover can only be used to repair flat roof that are dry. That doesn't mean that you can have leaks in the roof it just means that these leaks cannot be so sever that they have thoroughly saturated the existing roofing material
If your flat roof is saturated or already has multiple roofs it should be torn off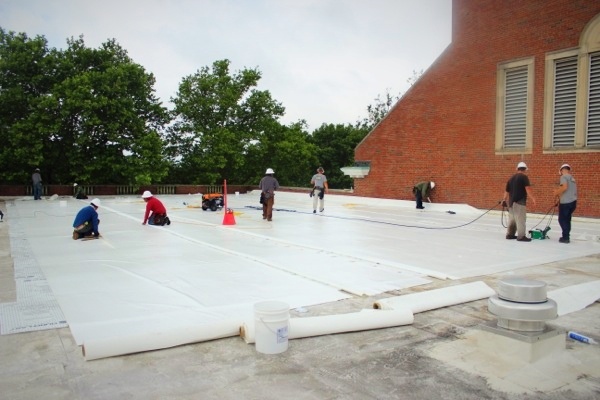 Flat Roof Tear Off
A tear off will cost more than a flat roof recover, it will take more time to complete the roofing project, and it creates more of a mess but sometimes it's the only way to correctly repair the buildings roof. A flat roof Tear off can have several advantages over a flat roof recover system Like getting the heavy, saturated roofing material off the building and getting a chance to inspect and repair the roof decking as needed. Removing the old roof also gives you the opportunity to properly insulate the building and is a good time to demo out and remove any old mechanical equipment skylights, or plumbing that is no longer needed or used. So where's the cut cost without cutting corner part of this deal you ask?
Don't be tempted to lay over top of or recover a saturated flat roof, it will cause you much trouble in the future. The trapped moisture will quickly rot out wood decking or rust out metal decks, the new roof won't last as long as it should and the next time your up for a tear off you'll be handling even more debris and layers of saturated flat roofing material.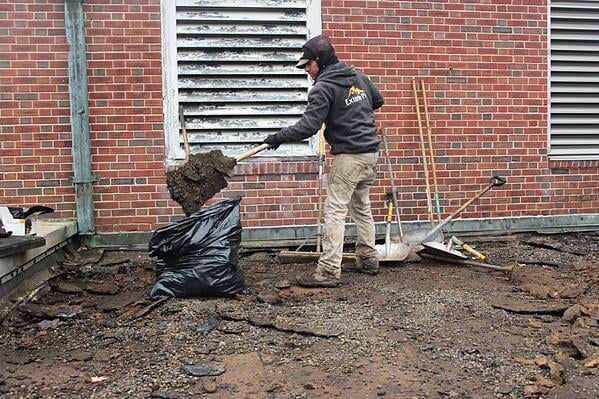 Targeted Repairs and Maintenance Even on Leaking Flat roofs
It very well may be the case that your existing flat roof is past its service life and is worn completely out but your budget won't allow you to make a large flat roof repair. I get it, you cant spend what you don't have. However one of the worst mistakes building owners make when handling flat roof repair is to completely abandon the roof. Because the roof is old and leaking and they anticipated a flat roof repair in the future, they stop spending money on the old roof and just let it go. Just letting the building leak will greatly jeopardize the chance that you could choose the cost savings PVC flat roof recover option but even if your planning on a tear down your best to at least control leaks. Removing saturated flat roofing debris is much tougher and will cost more to dispose of.
Instead of letting the roof go, use the leaks as an opportunity to build a relationship with a flat roofing company. You can "try out" a roofing company on smaller, lower dollar amount repairs. You can learn how they operate and what kind of service they provide before you hire them for a larger flat roof repair.