Businesses must always be on the lookout for ways to cut their overhead expenses. In doing so, they can better align their budgets with core operational functions, especially those related to product quality improvement and customer satisfaction. As the owner of your business property, it's imperative that you look at the one overhead expense that is truly over your head -- your roof. An energy efficient roof can help cut ongoing energy expenses, and it promotes environmentally sustainability.
---
Flat Cool Metal Roofing
There are many roofing upgrades that can be performed to trim the cost of your energy bills, with one being cool metal roofing. A flat roof is perfect for buildings that have rooftops with little or no slope. You can pick a metal color that complements your building structure, and there is also an assortment of textures that metal roofing comes in. Best of all, you can save up to 40 percent off of your annual energy expenses.
The Oak Ridge National Laboratory along with the Cool Metal Roofing Coalition has stated that metal roofs have the capability to lower air temperatures by up to 12 ° F. This means you'll not only lower your energy usage, but you'll also be less dependent on energy resources. Communities with this type of roofing enjoy less general air pollution.


Cool metal roofing works according to the finish that is applied to it. An unpainted metal roof reflects solar energy and helps deter much of the heat that is absorbed in attic areas. For businesses in warmer climates, a metal roof that is granular coated will go beyond simply reflecting solar energy by also re-emitting solar radiation and cooling the inside of your facility. A highly emissive painted metal roof is ideal for businesses that are in primarily hot climates.
Maintenance and inspection on flat cool metal roofing is much simpler to conduct than on roofs that are sloped and made of asphalt. This type of roofing also offers more stability, and when it comes to re-coating, costs are trimmed significantly when compared to sloped roofs. It is also with flat rooftops that you have prime opportunity to take advantage of solar panels; this is an excellent way to go green and cut your energy expenses even further. And if you ever want to expand your building structure, a flat roof makes adding on additions simple.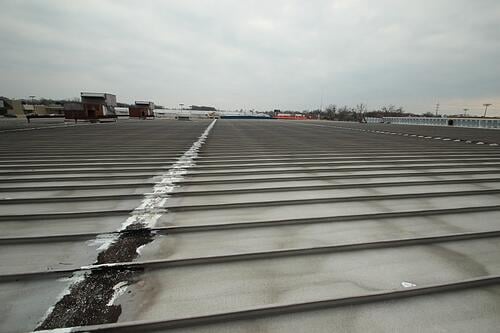 ---
If you're interested in sprucing up your building structure with a stylistic and functional rooftop, then a flat roof is a cost-effective and energy-efficient option that you should take advantage of. The savings from lowered energy bills and simplified maintenance can go a long way at improving your business budget.