Once you have realized the benefits of having a metal roof installed, you need to understand the difference in the types of systems available. You can compare the benefits of a standing seam metal roof to other metal roofs; however, you must also consider the differences in materials and installation procedures to get the full picture of maintenance and durability issues over the lifetime of the roof.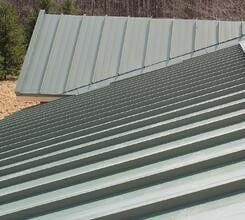 Standing Seam Metal Roof
A standing seam metal roof uses interlocking panels that run vertically from the ridge to the gutter. The seam system provides better resistance to temperature changes and sliding clips can be used for extreme temperature needs. The sliding ability allows for greater expansion and contraction of the system.
This roofing system does not use exposed fasteners; the raised seams interlock tightly and prevent water penetration. A standing seam metal roof also offers the ability for watertight installation on low sloping roofs, those under a 3:12 slope. A standing seam metal roof is an excellent choice for both commercial and residential applications.
Agricultural or Pole Barn Metal Panel Roof

This type of roofing system uses metal sheeting that may be flat or corrugated. Sheet roofing should not be used on slopes of less than 3:12 without additional waterproofing techniques. While most of the materials used in sheet style metal roofs have the same longevity of a standing seam metal roof, the exposed fasteners become the downfall.
The fasteners can corrode and will require replacement. The fasteners also require an elastomeric gasket for expansion and waterproofing, and the gaskets have a shorter lifespan than the panels. The fasteners and gaskets present an area where water can penetrate underneath the roof system.
Metal Shingle Roofs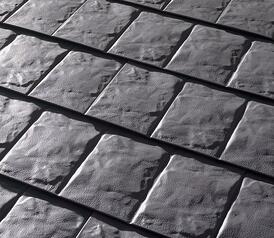 Metal shingle roofs can be very attractive for residential applications. The tiles can be stamped or formed to add patterns or simulate the look of cedar shingles or clay tile. This type of roofing is not often used in commercial applications; metal shingles provide more of an aesthetic benefit.
Metal shingles are lightweight and can be prone to blow off in high winds. They are prone to uplift on ridges and hips. In high winds areas, the correct wind ratings must be used to ensure longevity. Individual tiles can also be crushed when technicians or maintenance personnel walk on the surface.
While all metal roofing systems do provide excellent resistance to sparks and fire, choices must be made regarding the amount of maintenance or repairs required, as well as the potential for wind damage. A standing seam metal roof does not present the maintenance complications of other metal roofs and the design is highly wind resistant.