Now that you know that metal roof repair or replacement is imminent, it is time to compare the options prior to making your decision. Should you go with metal roof coatings or replace the roof?
Business owners and facilities managers make many decisions regarding a building but the metal roof repair or replacement decision can be time consuming, confusing and take more time than expected.
As with any major decision regarding facilities, there are many factors to consider before going with metal roof repair, replacement, or metal roof coatings. You have likely considered options like Metal, Asphalt Shingles, Clay Tile, Slate, Metal Shingles, TPO (Thermoplastic Plyolefin), Single Ply Build up Roofs (BUR) with either ballasted, full adhered, and mechanically fastening strategies. You now know more about roofing systems than you ever cared to know.
Considerations for Full Replacement
While metal is by far the predominant choice for commercial roofs replacing a commercial roof is potentially a substantial cost and there are many options available. There are five key considerations for replacing a commercial roof:
Objectives – how long will you own the property, what is your budget and what kind of funding is available
How property is used – will there be any traffic on the roof by tenants or others, how visible is the roof and the importance of appearance, potential damage if leaks occur, impact on employees or residents
Location of property – inner cities are typically hotter, are certain types of roofing inappropriate
Local building codes – any environmental considerations – are rebates available for "green" initiatives or "cool" surfaces.
Construction of building and the roof itself – what materials were used in original construction and what materials are available for replacement. Will demolition or removal of existing roof required and what level of insulation factors is required?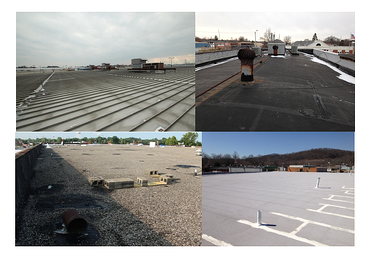 Once you have a list of considerations and you have prioritized them, it is time to ask others for advice. A commercial roofing contractor can help you with options for your roof system that will be best for your roof and problem. Each problem can have different solutions depending on what the issue is. There are many different roofing systems as listed below that can also benefit a metal roof as well as a short term fix of metal roof coatings.
BUR Built up Roofing systems (BUR) consists of many layers of laminated roof felts fused together with modified bitumen. This particular type of roofing system has a long lifespan but can be more expensive to repair and replace than single-ply membrane roofing.
TPO (Thermoplastic Plyolefin) can withstand ponding, or standing water, unlike other single-ply membranes.
The mechanical fastening system is the fastest growing segment of the commercial roofing market. Contractors use plates and screws to secure seams. This system is the easiest to repair.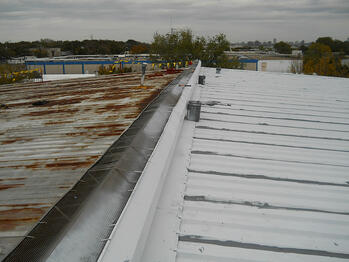 Considerations for Metal Roof Repair and Metal Roof Coatings
Metal Roof Repair and Metal Roof Coatings can extend the life of the original roof and the building itself at a much lower cost than a replacement strategy. As metal roofs become increasingly popular, many business owners and facilities managers consider ways for metal roof repair and metal roof coatings are one of the best ways to extend the life of a building and its roof.
There are many types of metal roofs including steel, zinc alloys, aluminum, and copper. There are also colored coated roofs available. All metal roofs have seams where the metals panels match up and this is usually where the problems eventually surface. One option for sealing these areas is a MicroSealant® called EternaBond®.