There are many products on the market used for flat roof repair or restoration. In order to select the best roofing system, you need to compare the types of materials used, the installation procedures, maintenance requirements and warranties.
Duro-Last roofing membranes are manufactured with a thermoplastic formula of PVC resins that includes stabilizers, flame-retardants, biocides and U.V. absorbents. Other systems use TPO, EPDM or Modified Bitumen. A polyester scrim is laminated between the top and bottom layers of the PVC film to provide exceptional durability and strength. This membrane meets both fire and wind resistance code requirements.
Failures in roofing systems frequently come from problems during installation. Duro-Last membranes are prefabricated in sizes up to 2,500 square feet. This greatly reduces the amount of seaming required in the field. Curbs and stacks are also custom manufactured to provide a superior finished product.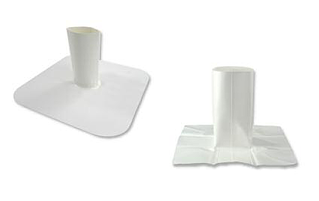 The prefabrication system also allows for quicker installation and no removal of the old roof is required. The interior of the building is not exposed to the elements during the flat roof repair process. The building can remain in use without fear of exposure to chemicals or odors.

Flashings are reinforced and installation is completed with heat welding in the field. Many other companies use glues or hot-mopping products to secure flashings. These materials can wear out over time and become a source of leaks. Maintenance of a Duro-Last system is minimal. Flashings and other connections do not require re-coating for full service life.

The Duro-Last prefabricated membrane system comes with a 15-year transferable warranty. This warranty is included at no extra cost to the customer. Extended warranties are available. Duro-Last also covers more in the provided warranty than many other manufacturers.

If your flat roof has problems with ponding water, many manufacturers will not provide coverage for membrane damage from this situation. Duro-Last designs membranes to handle standing water and includes this in the warranty. The warranty also covers the repair or replacement of the roofing system. Most manufacturers will only provide repairs to the membrane or coating.

Talk to a professional today to compare the materials and protection offered by a variety of flat roof repair systems. Make sure to look at the details included in warranties and the actual installation procedures. Duro-Last provides an alternative to flat roof replacement that gives you the most value for your roofing budget.