Standing seam metal roofs are available in several different types to meet unique application and appearance needs. The variances include the type of seaming and the metal used in manufacturing the roofing system.
Continuous Seam Positive Locking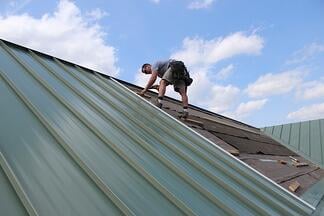 The continuous standing seam metal roof design uses an integral seam. Each panel is designed to snap into place over the previous panel and it is then fastened with clips. No seam caps are required and this reduces the potential for any creeping of the seam. Continuous seam systems can be directly fastened to a solid substrate. The positive locking installation reduces labor in the field.
Mechanically Seamed in Field
A standing seam metal roof system can be mechanically seamed in the field, during installation. This system provides a variety of seam heights. Higher seams can add structural stability to the roofing system. Panels are installed with a fixed or sliding clip system. Sliding clips provide greater tolerance to temperature changes, as they slide during expansion and contraction.
Mechanical seams done in the field also allow for radius formation, providing a curved effect. Planked ribs can be added to offer accent features. The style provides a unique appearance over walkways and entrances.
Non-structural Panel

A non-structural panel system uses two sections. The first is the flat panel and the second is the batten or seam. The seam portion snaps into place over the clips protecting and concealing the fasteners. With the batten system, spacer clips are installed and locked into place. This type of standing seam metal roof must be installed over a solid substrate; it cannot be installed as a stand-alone or raised system. Tapered or curved panels are available.

These different types of standing seam metal roof systems are available in different metals including aluminum, aluminum - zinc coated alloy, coated steel and copper. Panels can be installed in a number of widths to work with the style of the business or home. Common sizes run 18 to 24 inches wide, custom sizes can be manufactured.
Residential and commercial types are available in a range of colors to enhance appearance and reduce heat gain. Each style of standing seam metal roof provides the same durability, corrosion resistance and longevity that makes metal roofing an excellent investment.