The reason your Chimney is leaking may be somewhat of a mystery but what can also be unclear is exactly which direction you should turn for help. Should you call a roofer, a chimney sweep, or a brick mason? Well that depends on what type of chimney repair you need, each of these trades repair specific pieces of the chimney and while there is some over lap in chimney repair work, all three trades are useful and need somewhere in the chimney repair line up.
Understanding the 3 most common reasons chimneys leak is a good place to start when determining who you should call and here is general break down of what type of services you can expect from each trade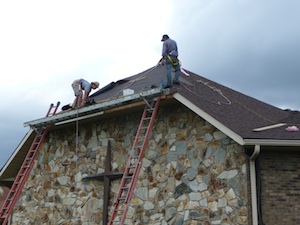 Roofers
A Roofing companies primary wheel house of knowledge is centered around the flashing and counter flashing aspect of chimney repairs. When the chimney leaks are a cause of bad or improperly installed flashing a skilled roofer is the one to call. They will be able to remove the roofing material around the chimney, install new flashings and counter flashing, and replace the roofing to seal up the tie in between the roof and chimney.

Chimney Sweeps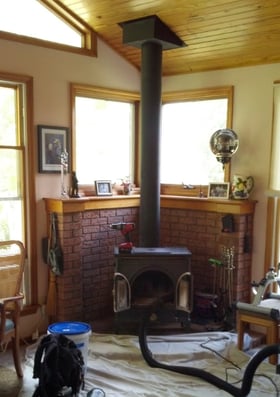 A chimney Sweeping company will usually preform a wide variety of specialty chimney services such as flue and liner inspections and cleaning, installation of new fireplaces, and installation of chimney caps and dampers. Another very important function a chimney sweep preforms is masonry water proofing and sealing the concrete cap or "crown" as it's called on top of the chimney. Water proofing the brick and coating the chimney's crown are two ways chimney sweeps stop water infiltration through porous masonry into the home or building. Chimney sweeps can also provide tuck pointing and may replace bad or broken bricks.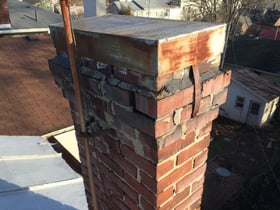 Brick Masons
The brick mason is the constructor of the entire chimney structure and will be your best option if the chimney needs to be taken down and rebuilt or if a large scale tuck point job is necessary. Brick masons will have the equipment and expertise to take down the chimney quickly and safety and may even be able to salvage the usable bricks.
Each of these trades over lap the other in some ways for example you will find roofing companies that tuck point and chimney sweeps that take down and rebuild leaking chimneys but in general knowing what to expect from each trade will help you determine which chimney repair route is best for you situation.
And if you still cant figure out who you should call, start with companies that offer free estimates or evaluations. Even if they don't specifically work on the problem area they may be able to refer you to a skilled tradesman that does.