When commercial building owners are investigating the different roofing systems there are available to them, one thing that should really stick out in the process is what kind of warranty is offered. There are many companies that either have the same material type or offer other type of systems. For instance there is TPO and PVC that have some similar aspects but are also very different. For more information on the different roofing systems that can be used for commercial flat roofing check out this blog Flat Roof Materials.
Because there are so many different manufacturers either offering the same type of product or a while different one, there are also many different warranties that are offered. Browsing through our blogs you can find lost of information on the Duro-Last system and the many benefits that the roofing system can give you. But one other thing we want to mention is the warranty that Duro-Last offers and why we think it's the best solution for flat roof owners.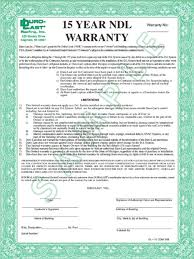 The standard warranty that Duro-Last offers is the 15 year NDL which stands for No Dollar Limit. This warranty is also transferable. Unlike some other companies there are no exclusions for ponding water which is a plus. Some companies will void the warranty because of a ponding water problem. It also provides coverage for damages resulting in any defects in the material or installation workmanship. Is that not a great warranty? This same warranty can also come in a 20 year. This warrant is for commercial buildings. They also offer warranties that cover hail damage and high wind that can be purchased at an additional cost that can be for 15 or 20 years.
When the decision comes to replace the roof it can be a straining process because it is a costly investment on your building. The one thing that can help ease your mind is knowledge of the system you are considering and knowing the warranty that is offered and the benefits that you can get from the roofing system. Check out some of our blogs on Duro-Last and see why customers love the system.