During the spring we received a call about a flat roof that was leaking and in desperate need of replacing. The roof sq ft is approximately 40,000 total for the two adjoining roofs. Their current roof was a built up roof system with the gravel. The crew went to the site and began investigating the leaking problems they were having.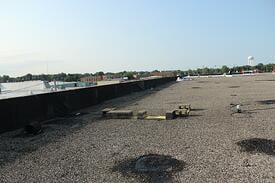 What we found was that there were many issues with ponding water on the roof and a major leak on the back end of the building causing damage inside, the parapet walls were also having leaking issues. There were also many HVAC units on the roof and some of them were leaking as well. One step was to stop the leaking with HVAC units and have them repaired or replaced and then to stop the leaks that were occurring else where on the roof. Because it is a big flat roof locating the origin of leaks can sometimes be difficult task, especially if there are numerous areas leaking and with a roof this size.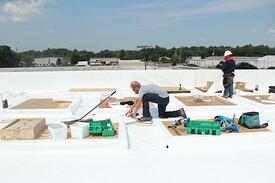 Typically there are common areas that flat roofs will leak like parapet walls, seams,
HVAC units or near draining systems that might be clogged. Having a roofing professional that is experienced and has knowledge base on flat roofs will help to locate leaking issues on flat roofs. After going over what issues were spotted it was time for a solution.The solution for the roof was to install a new roofing system with insulation underneath using the Duro Last roofing system.The condition of the roof underneath their current system was able to have the insulation installed on top of the current system, this saves on tear off cost on a roof this size. The insulation was mechanically attached to the roof and then the Duro Last membrane was mechanically attached to the insulation. The HVAC units were installed onto of a platform built for them and also covered with the membrane to prevent any damage to the roof deck or system. Most seams are completed by the manufacturer before ever shipped and any seams that need welded onsite are hot air welded. Parapet walls were also covered in membrane to seal that area that leaks can occur and the ponding water problems in areas of the roof were attended to also.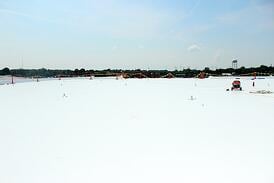 The process to install the installation and roofing system took about 6-7 days total for both roofs. There was no disruption to the business daily activities and now they can enjoy a new roof and new look without any worries of leaks.