One thing that might not be considered about the type of roofing system needed for a roof is based on the structure load that the roof can handle. Any deficiencies in the structure of the roof can cause flat roofs to collapse under too much weight on top of the roof. In some cases the designer or builder did not include sufficient support for the roof size and structure. Make sure that before you start deciding what roof system that you have the information about your roof structure in order to make an good decision on what is best for your roof. The more information you know about your roof the better decisions you will make to ensure it continues to perform the way it should.
Also think about what you have on the roof already and know what the roof can handle. If you have a lot of heavy equipment on your roof and it is close to the PSF (pounds per square) limit, the last type of roofing system you need or your roof can even handle is a built up gravel roof. This is a tar roof that has sometime of rock laid on top to help with wind uplift and can be quite heavy onto of the roof. Beacause of flat roofs many businesses can have any equipment they need ontop of the roof instead of in the building or on the ground. This is very helpful to have more space but also dangerous if the roof gets overloaded with weight it was not designed to hold.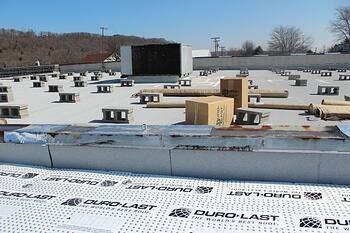 Sometimes there are problems with ponding water on roofs and the ceiling is sagging. Flat roofs need a little bit of a slope if there is an area that has lots of ponding water problems. This may mean that there is a leak and its full of water and this can be for many reasons like the insufficient structure when built or there is no slope to drain the water. Ponding water can add a lot of weight to your roof. This is also something you need to have checked out and fix if you have a problem with water ponding whether the roof has a big leak that the decking and structure has been damaged or for inadequate drain system and slope. This is also true and harmful during the winter months when there is a lot of heavy snow fall and ice. Contact a local roofing contract and they can tell you what kind of problem you have and come up with a solution to fix it.