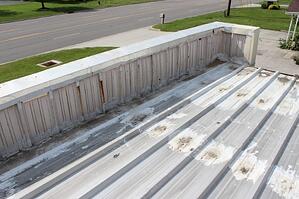 Commercial buildings can average in size 5,000-10,000 sq ft in many different industries. Considering the size of these buildings you can imagine the effort that must be taken to maintain the roof. Businesses have so much cost that is involved in running the business, the last thing a business wants to do is spend a fortune in repairs every year to keep the building in current conditions. Why spend that much money every year to restore it to the condition it was in than to improve the buildings condition and spend less every year? In todays economy many businesses don't need the extra costs every year. If you are paying for a repair for your roof that seems small at cost but having to repeat these repairs and maintenance every year; after 10 years or so you could already have spent more than you would to install a new roof system. Of course a new roof will cost more than repairs most of the time, but if you look at what you have to spend on an annual basis it makes more sense to invest in a new roof and not have an annual repairs cost added for the lifetime of the roofing system.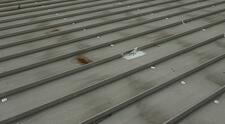 With a metal roof, there can be many repairs that need attending to due to the screws and with metal expanding, sometimes that alone can cause damage. With as many screws metal roofs require to hold it down, it can be frustrating to maintain the roof system and can be time consuming. Then you have rusting, corrosion, sealing, coating and more. They may have some benefits but they also need to be consistently maintained.
Let's look at the math. Say a new roof system for your business is $40,000 and has a life span of 20 years. Currently you are spending $3,000 a year for repairs. Seems like repairing is the better fit right? Consider this, in every business prices go up, so you need to factor in inflation that every year the repair can go up say $250 considering labor and materials will cost this much more on top of the $3,000 you pay for a repair.

After 20 years you could spend the cost of a new roof compared to have spent $65,000 in repairs costs each year. Costs for repairs can fluctuate depending on the nature of the repair, the materials needed, amount of labor. These can be smaller than the example we used or maybe more. Each repair will depend on the project plus the contractor used. The roofing industry always fluctuates based on the contractor as well and sometimes the location. Either way that cost is there every year you keep the same roof and go for a re-storing the current roof or just maintaining the current condition compared to being able to install a new roofing system that will have a longer life cycle period that you won't have a cost every year. Another consideration too is that sometimes a contractor must make multiple trips to fix a leaking roof. So there is a possibility of having to pay that repair bill twice in a year. The good thing about metal roofs is that there is a system that can be retrofitted to the roof that can help lessen tear off costs assuming the decking and insulation are not damaged so much that a tear off would be necessary.
Business owners want to be able to focus on their company than to spend time and money on repairs. It should be that you can save money, focus on your business and have a nice roof that requires little maintenance. If you are drowning in repair costs on your roof whether it is metal, rubber, or another system, call us and we can help you find a solution to the constant repairing costs.