Often buyers and sellers are negotiating price, especially when it comes to repairs that need tending to. Whether you are the buyer or seller you need to ensure the roof is intact and in good condition. Sometimes the buyer will offer to repair or replace the roof and sometimes its up to the seller to do. So what should you do and look for as a buyer or seller?
Residential Home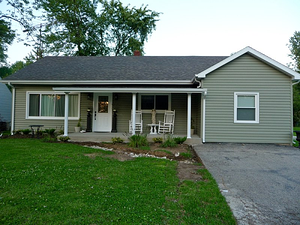 When you have officially decided to sell your home, you start checking things inside the home. You start to fix things, repaint, clean top to bottom, check the landscaping and the way the house looks. When doing this, do not forget about the roof. As a buyer it is not only the way the home looks, feels, it is also the condition it is in. Just like new flooring but not repairing the floor that has weak spots underneath doesn't mean the floor is in good condition, cosmetic covering can cost in when the buyer inspects the home. It is the same for a roof. If you have not had any problems with your roof and it looks okay to you, it is still good to ask a roofing contractor to come inspect the condition of the roof. It is better to pay a small fee to ensure the roof is still in good condition than the buyer coming in and you begin negotiating or possibly even loose the buyer. If your roof is 15 years old or older you should call also.
Some things you want to look for is any sagging, missing shingles, broken or cracked shingles, are there granules in the gutters (this may mean you need new shingles because they loose their protection), are there many dark spots on the roof, algae or mold? Check flashing, vents and soffit and fascia. Check the gutters as well. The obvious things of painting and making it look new is good and okay to do, just ensure that everything is working properly also.
The roof can be a higher cost than you may want to spend but it can be better to get the roof done than loose a buyer. Get the roof checked out before you list the home, replace and/or repair the roof. Any updating you do to your home adds value to the home and can save a hassle for the seller when process can go smoother and quicker. In the long run you the seller and the buyer will be happy and satisfied when it is all said and done.
Commercial Building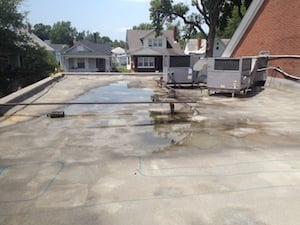 If you are selling or maybe even leasing a commercial property, you also want to check the roof. There are many different roofing systems for commercial buildings and much to inspect to ensure the condition of the roof is still good. Since other roofing systems besides shingles tend to have a less lifespan than shingles, it is extremely important to ensure the roof does not need replaced or repaired. Commercial buildings are generally higher in cost whether buying or leasing, and the buyer/leaser does not want to have to get into the building and then spend even more shortly after to do the roof. Between the two parties you guys can come to an agreement just like and home buyers and sellers do. Just cooperate with each other and do the necessary steps that need to be done. It is the same as a home, the property becomes more valuable when the property is updated than when it begins to run down. Things run a little more different with commercial buildings because sometimes the buyers want to make over the building so to speak and do not always care how the building looks as long as there is no major damage, just if it will work for them and other times it's not that way. It can be helpful to potential buyers or leasers if you have the building and roof inspected and have a list of what you can tell them needs done and then begin your process. It shows better than you were ready than them bringing you a list.
Commercial properties are a valuable asset to companies but it must stay in working condition to be at the value it should. Worsening conditions can lower the asset value. It is basically your investment in your company and your asset, so you must protect it. The buying and selling market can be frustrating and like a dance a lot of times, but if you can get a jump start on knowing what needs to be done to make it buy ready and appealing or know what to look for when buying, then it can help ease the stress that can go along with it.