Now that the year is almost half over and we are nearing winter in 5 months, it is the best time to start having flat roofs inspected and doing required maintenance and repairs to it. With all the heavy snow and ice from the winter, dry spell to heavy rain falls frequently during these hot and humid months, flat roofs have already had a toll on them especially if they are already in harsh condition. No matter what type of roofing system you have on your flat roof it is time to get up there and fully inspect the roof or you can also call a roofing contractor that has flat roofing knowledge to inspect the roof. The worst thing that can happen is to have an inexperienced contractor with flat roofs looking at your roof and not knowing what to look for or where to look.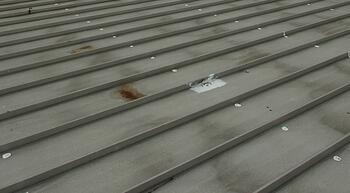 Flat and low sloped roofs are different from sloped roofs because they are designed differently, the structure is different and the materials are different. They are designed for who the roof is going to be used, the weight it can support, and what heavy equipment must be on top of it. Most all commercial flat roofs have HVAC units and other equipment that must be on top of the roof. Then you have the unique flat roofs that are used to walk on like hospitals that have where you can walk out and there is a garden area, and then helicopter pads and so forth. So for each flat roof there are specific needs to maintenance and roofing systems.
Start with the surface of your roof, check for any tearing, punctures, ripples, missing materials, lifted material, and check to see sings of hail, wind and sun damage. Then you want to check out the seams in the material, especially by flashings, parapet walls, HVAC units or other equipment. Look closely for any punctures, tearing or anything that may cause any leaking to have a way in near these areas also. Ensure there is no debris on the roof and if so have it cleaned up. Check fasteners if your roofing system is mechanically attached. With metal roofs you want to check all screws and fasteners the best you can to ensure there are no damaged screws including major rusting. Checks seals, flashings and if there is an area with staining from ponding water, check around the area to ensure no units are leaking and that draining systems are working properly and not clogged.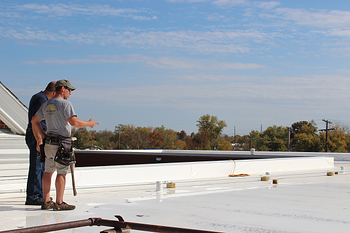 The earlier you can start on maintaining your roof and inspecting it for any possible problems and fix what needs to be fixed, the better your roofs condition will be to start the next winter season. The only way your roof is going to perform the way it should is to help maintain its condition. Some roofing systems are really simple to maintain like PVC membrane and TPO roofs. Do not let a leaking or damaged roof sit if there is even just a little bit of repairs because neglecting to repair any damages can cause higher costs later down the road. Others require more maintenance but either way maintenance, repairing what needs fixed and inspecting your roof regularly can ensure your roofs life cycle and even help prolong it. If your flat roof has damages, leaking, needs replaced or just would like an inspection give Exterior Pro a call.