There are warranties for almost every roofing material, especially if it's a full system from that manufacturer ranging from 5-30 years and even some have longer periods. Having a warranty for the product you have decided to have installed on your roof can be very important and a must for commercial building owners. Some products have warranties for commercial project but not residential. It is always best to ask your contractor about warranties before you decide on a product.
Are all warranties the same?
Not all warranties are the same, one manufacturer may have a dollar limit or set minimum amount and the other manufacturer has no dollar limit and a smaller minimum amount. But that is not all that can be different. Make sure to ask if there is a dollar limit for the warranty. Some warranties cover material only and will only pay if the material has failed in some way. Sometimes they do not cover hail damage, or winds higher than stated if they did at all. If a warranty states it will cover up to 80 mph winds, then a tornado comes through, they will not cover costs over 80 mph. It is very important to ask your roofing contractor or the manufacturer for clear understanding of what the warranty covers and what it does not. There are so many different warranties, sometimes for the same product. Another thing to look for is that some will cover materials but not labor costs. Warranties are a lot like insurance policies for your roof, get the facts before you buy.
Limited, Lifetime and Full warranty.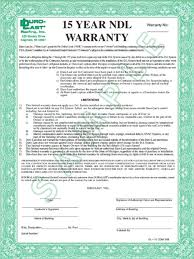 A limited warranty means that the warranty is limited to certain defects, specific parts or other conditions wrote in the warranty. This usually means that it may cover some parts like maybe the material but not the labor so it would be split costs between the manufacturer and consumer.
Full warranty generally do not cover wear and tear but means the product must be repaired or replaced during that warranty period. Sometimes these warranties can be short time frames, this does not mean that it is a lifetime warranty.
Lifetime warranty is like it says, that product is covered and backed for its lifetime until it is no longer in the market or made anymore. Although, there are always some conditions that must be followed and met and usually they cost more to have.
When do I get the warranty?
Most all manufacturers require the product to be inspected by one of their professionals to ensure that the product was installed correctly and in good condition before they issue the warranty. That will be the activation of the warranty. For some residential and most commercial installations, there is a requirement to have the product inspected annually and a maintenance program (commercially) to ensure the roof is still in good condition and passing. Most manufacturers have where you can buy an extended warranty and they can also be transferrable. Some warranties have to be purchased and some do not. Make sure to ask the roofing contractor how your warranty becomes active.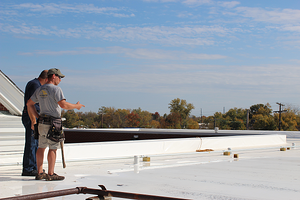 Before purchasing a roofing product make sure to ask about warranties, especially commercial properties. You want the best coverage in the warranty for a right amount of time period. If you are told that the roof system generally has a 30 year life, there is probably not a reason to purchase a 50 year warranty. Always talk to the roofing contractor about that product and ensure that they are experienced in that material as well. Poor workmanship on an installation can have affect on your warranty especially if you cannot find that contractor anymore, always research your roofing contractor and see if they have a good history and experience in that product.