Many homeowners and building owners call roofing contractors before they call their insurance company when they think it may be an insurance claim. Sometimes roofing contractors can help with this process to let you know if you should call your insurance company.
Every policy is different for everyone. One may cover wind damage while another covers wind and hail. It is best to talk to your insurance company and have a clarity on your home coverage and what it is includes and the process for a claim.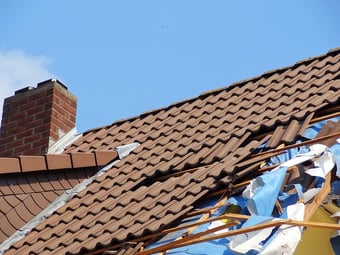 Of course there are insurance companies and policies that are better than others. Some can be a pain as many of you may know. When you have any kind of damage from wind, hail, trees, tornadoes and many other incidents that can happen, the best thing to do first is to call your insurance and talk to them about the situation and see if it is covered by your policy. A inspector/adjuster will then come out to evaluate the claim. At that time it can help at times to have your roofing contractor meet with the inspector/adjuster when they take a look at the damages. Sometimes the roofing contractor can help provide you with more value base on the scope of work that the insurance will cover. Sometimes when you get the results of the report it can be confusing to understand and that is where your roofing contractor can help you.
For new homeowners or anyone that does not have home insurance yet, make sure to research what kind of coverage you should have for your home, and get one. This can save you a lot of time and headache later down the road. Sometimes you may not need a replacement but a repair, your deductible can make a difference whether you want to go through an insurance claim or not. If your repair is smaller or close to your deductible, there is not a need to do a claim.
We have seen when a homeowner did not or could not spend the money on a repair and the insurance wouldn't cover it so nothing was done. But one day something had to be done due to major leaks. The bad thing is that the insurance may not cover part of the replacement because of a neglect to have an issue fixed, so in the end, you end up having to pay out of pocket. It is always best to get your roof fixed and correctly because sometimes you can end up having more to pay in the long run.
To summarize it is a good idea to learn more about your policy and coverage or even to update your policy so that you know if you will possibly have an out of pocket expense.