Here at Exterior Pro we knowledge ourselves in every aspect we service. We send our crew to professional training sessions in each area of service we offer and the best way to train is having some hands on training sessions so they can see the product, learn about it, and physically install it.
In April, Exterior Pro crew received a training session with James Hardie siding. James Hardie is one of the leading manufacturers in siding with many different options. One thing we value is our customers opinion on our work; we want to do the job right and our customers to love the results. This is why we believe it is extremely important that our crew is trained in every aspect of our work whether it is the different roofing systems we do, gutters or the siding. We want our crew to continue to learn new techniques and the products. Hardie had great information on different techniques for installing Hardie siding and information on their product options.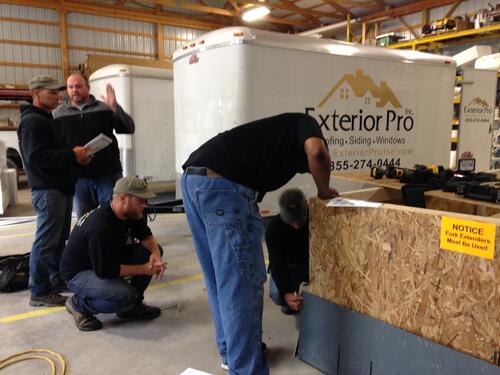 We are thankful to James Hardie and the trainers and sales rep that came to offer the training for a wonderful learning course on installing Hardie siding and more in depth information on their products.