With spring that was on its way bringing April showers; early this spring when the first storm and hard rain traveled throughout southern Indiana, the leaks started flowing for many residents and business owners. A major issue that no one wants to have to deal with is a leaking water inside your home or business, causing damage to your ceiling, belongings and inventory. This is especially a damper on businesses trying to operate their normal hours. One thing we know is that when the rain season hits, so does the calls to our office for leaks.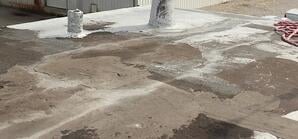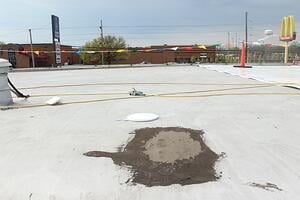 One of those is a local business that we all know for their painting selection, Sherwin Williams, contacted Exterior Pro quickly because their ceiling had caved in and water was dripping all over their inventory. In a frantic they needed something done quickly to limit any more damage to the inside of the building. Fortunately there was not that much damage to their inventory as the rain drifted away and we were able to get the roof repaired so that the next set of rain we were expecting would not cause any more problems for the business as we went into the next step of replacing the roof with white Duro Last membrane roofing system.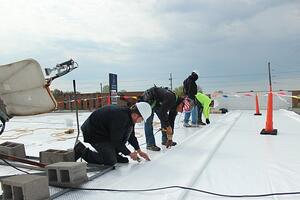 The buildings roof is approximately 5,600 sq ft of a low slope or flat roof. The roof had needed to be replaced for a while. Some poor patching jobs did not do the trick leaving room for more damage to come their way.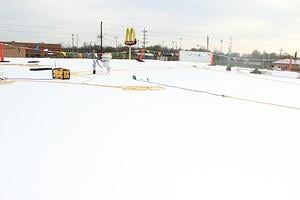 Now that the spring has given a few breaks, Exterior Pro crew was able to start on Sherman Williams, they are now up and running without any interruptions from their daily operations with a new Duro Last roof. The new roof should give them ease for the next 15-25 years from any more leaking.