Another type of shingle you might be considering in replacing your new roof with is metal shingles. Residents are starting to have an interest in metal roofing due to cost, style and energy efficiency. Some though, do not like the look of the most common metal roof systems like the standing seam. Even though these come in different variety of colors, your neighborhood or your home may not take to the standing seam metal roofs. An alternative is metal shingles.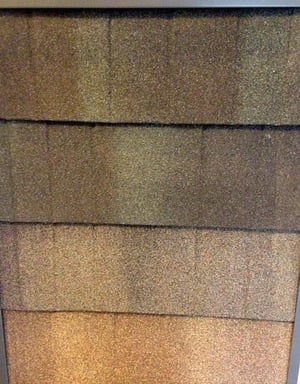 Metal shingles come in many styles and can also closely resemble asphalt shingles. There are even other types out there that look like wood shingles and wood shakes.
The way the metal shingles work is that they are in a system of interlocking panels. This interlocking system holds them tight in place even with the high winds we get here in Indiana. It also keeps all fasteners concealed. Some metal shingles though interlock on the top and bottom, not all metal shingles are the same.
The metal shingles offer durability and fire resistance as well as fungus resistance that you can get in asphalt shingles. The metal shingles can give your home a unique look.
If you are looking at a metal roof or replacing your shingle roof, contact us today 812-274-0444 and ask about metal shingles. A sales representative can show you some samples in our office and answer any questions or concerns you have. If you are unsure about using metal shingles, we can help you there too whether it is shingles or metal roofing. We can help you find the perfect product for your home and style.