Findings:
On Thursday evening April 5, 2014 Exterior Pro responded to a Leak call at 744 Jefferson Ct or Madison 6 theater. Upon arrival we found multiply leaks in theater 3, the foyer, in theater 5, and in the projection room for theater 5.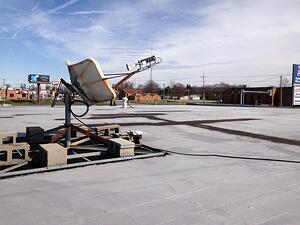 The amount of water that was entering the building suggested multiple cold welds in the roofing membrane or lifts, tears or hole created by HVAC contractors or degradation of sealant around a flashing or termination bar.
Step one: Check Roof for the obvious
We began our search for leaks on the roofing membrane and flashings. We found several small holes and various lifts and cold welds.
We repaired what we found but the leaks we found were not responsible for the large amount of water entering building.
Step Two: Getting a closer look
Next we climbed through the rafter of the theater to try and locate the exact point water entered building. We found most of the leaks in the building were related to two separate HVAC units. We then returned by to the roof to closely inspect Duro last membrane around units. Again we found small areas that needed repair but nothing large enough to let in large amounts of water.
Step Three: Examine the HVAC units
We began to visually inspect the HVAC and could not find any area where water could enter the building. However we had a feeling that the leaks could be hidden from sight, under a piece of metal used to bolt the condensers to the unit.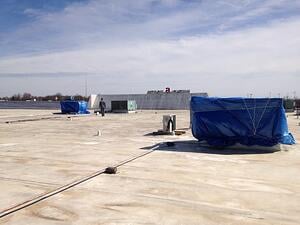 Test the theory
On Sunday afternoon we shut down power to two of the HVAC units and installed tarps over top to seal units from rain that was to happen the following Monday. After an all day rain we returned to the Theater to check for leaks. We were right. The building was dry. The worst of the leaks in the theater are caused from rust pin holes under the condenser bolt plate. These leaks cannot be seen because they are in the pan of the unit itself and are covered by the bolt plate. The water travel through the unit onto the metal deck of the building. It then "runs" along the metal deck and causes various leaks mostly in a straight line, 50'-75' away from place that water entered building.
How to Fix
The Long term, permanent fix is to replace the old units. The alternative to this costly measure would be to attempt to seal bottom of condenser bolt plate to bottom of unit with a metal roof coating. The is not a permanent fix but could slow leaks down for a time