The Duro Last Commercial Roofing System fits so well in Indiana because it has so much in common with Indiana businesses; it is hard working, tough, and resilient just like hoosiers. But that is not the only reason the trained network of Duro Last contractors/installers in Indiana have enjoyed dramatic increases in sales and demand for the single ply PVC membrane. Indiana Duro Last contractors are able to install flat roofs at a lower cost and are able to do it faster, with more efficiency, and little to no down time for the facility receiving the new flat roof.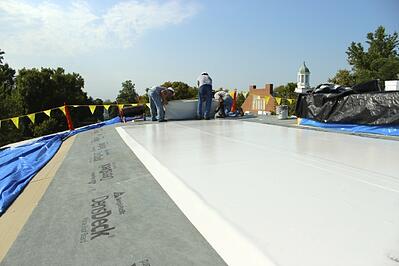 Lower Install Cost
Duro Last contractors in Indiana are able to install the PVC membrane over most other commonly found commercial roofing applications in Indiana such as EPDM rubber roofs, TPO, built up roofing, and low slope metal roofing. Laying over other types of roofs creates tremendous value for building owners as it lowers flat roofing labor cost by up to 50%. Not having to tear off a buildings flat roof saves money, time, and greatly lowers the buildings exposure to the weather.
A Better Designed Roof
Indiana Roofing contractors who install the Duro Last roofing system don't have to use rolls of material to fabricate a flat roof on site, they use pre-fabricated custom sheets that can cover as much as 2,500 sq ft of flat roofing at a time. These custom sized sheets are ordered to fit the buildings shape and allow the Duro Last contractor to design and install the flat roof with very few field seams.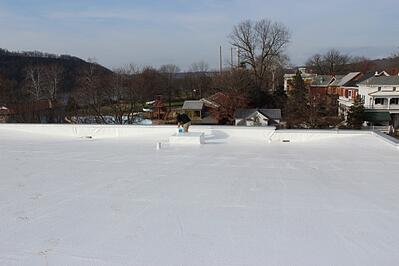 Accessories matter
Duro Last contractors don't have to field fabricate flat roof accessories such as HVAC or skylight curbs, vents, pipe flashings, or roof drain assemblies. Duro Last makes the largest and most comprehensive line of flat roofing accessories in the industry which they back up with 15 and 20 year warranties. Anyone very familiar with flat roofing maintenance knows that most leaks ocur around flashings and curbs. The Duro Last roofing system eliminates leaks around roof penetrations.
The group of Indiana Duro Last roofing contractors have a clear advantage when it comes to flat roofing.