Last October Exterior Pro Inc. received a repair/ leak call on a flat roof in Vevay Indiana. What we found surprised us to say the least.
The building in Vevay is a 18,000 Sq. Ft. grocery store that had an older Duro Last roof that had protected the structure for many years. Before Exterior Pro became involved with the project the building's tenant had detected several leaks and had called a local roofing contractor to preform repairs.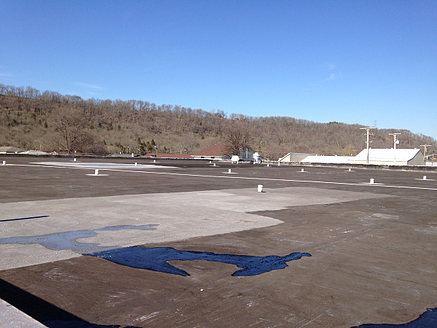 The repair action that the local roofing contractor had taken destroyed the entire roof. Duro Last is a PVC Commercial roofing membrane and it is tough stuff. However Duro Last roofing or any PVC roofing for that matter is not compatible with tar. In fact tar will eat or degrade PVC membranes over time and cause them to fail. The local roofing contractor had coated the entire 18,000 Sq. Ft. with a tar based coating turing the white PVC Membrane to a dull black tar finish.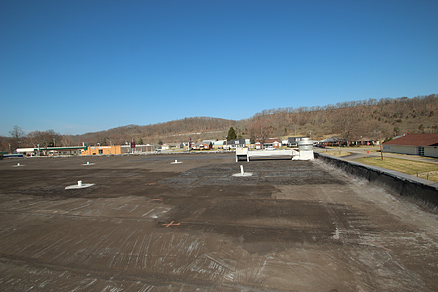 Quickly the tar degraded the membrane and by the time the harsh winter of 2013 was finished the buildings flat roof was in complete failure, leaking all over. A careless move by a unknowing local roofing contractor cost this building owner a lot of money, time, and headache. Exterior Pro Inc. has replaced the building's flat roof with The Duro Last Commercial roofing system and has given the building owner peace of mind and a leak free roof for another 15 years.