Because the roof of your commercial building is sight-unseen, you tend to forget about it. When a problem with leaking comes up, you are already too late to salvage your investment.
Oh, you can patch it and mend it. You can tape it and seal it. But, water will find its way, so that, even if it is linking here the leak does not show up until it is over there. And, faced with the price of replacing the roof, you just do not know what to do.
Well, think on this:
There are three main causes for roofing failure:
Heat eventually dries up the glues and oils in the roofing material, so that the material begins to deteriorate.
UV Rays from the sun dry the roofing material and turns it crispy and flaky.
Poor installation and maintenance jeopardize the roof's integrity. Poor installation allows roofs to pull away from walls, flashings, and protrusions like vents, skylights, and entrance hatches. Poor maintenance allows too much foot traffic, debris, and pooling water to damage the surface.
Now, whatever roofing system you choose, you must anticipate completely tearing out the old roof to the decking to which the roofing material is attached. This is not cheap, but it is not prohibitive considering the options. And, installing the right roofing system will save you money soon and for the long-run.

Duro-Last, for example, is a unique roofing system. Once your decking is cleared, cleaned, and inspected, it will cover your roof with a single-ply membrane custom-sized and fitted to your roof's configuration. The membrane is made of a thermoplastic combination of PVC vinyls together with stabilizers, UV ray absorbents, and fire retardants. The white roof even boasts an EPA Energy Star for rejecting 86% of the sun's harmful rays.

Durable and flexible, your membrane is manufactured off-site in a factory under strict quality control standards. Delivered to the site, the membrane is placed over your decking and fastened down. Custom made fittings for vents and other protrusions are heat welded in place, so the roof becomes a monolithic piece to withstand abuse from winds, storms, or traffic.

You can make a better decision with all the right info. Consider this graph which compares the allocation of your expenditure between any rolling application and Duro-Last: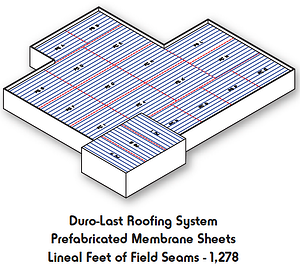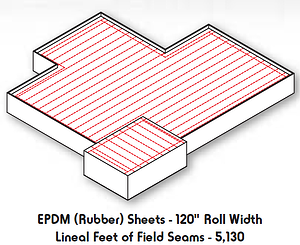 If we honestly assume the profit margin for both is 20%, it is not hard to see that the burden of Duro-Last cost in put into the quality materials allowing for a significant reduction in labor costs. Add to this the fact that, with the pre-fabrication taking place elsewhere and the installation taking much less time than any option, there will be minimal disruption to your business operations - an early and immediate return on investment!