If your building's flat roof just started leaking after 2013's winter you're not alone. For many Indiana building owners that had been putting off flat roof repair or replacement because of the economic down turn and uncertain business climate, the cold and long winter of 2013 was the last straw. As spring arrives and rain with it, many business owners are suddenly having to deal with multiple leaks on roofs that had otherwise been reasonably dry until now. So why all the leaks?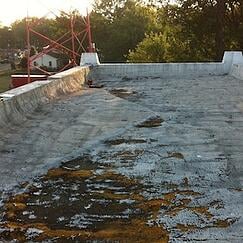 Extreme Expansion - Contraction Cycles
One of the major reason the many flat roofs began to leak this winter and early spring is from contraction of the roofing material brought on by intensely cold weather. Contraction does much more damage than Expansion. The fridge temps caused caulking, sealants, and even roof membranes to shrink and pull away from trims and flashing leaving open areas for snow, ice, and moisture to enter roofing system. Day time heating allowed for some melting but the melting in turn let water in liquid form move through roof into interior of buildings.
Freeze - Thaw
Most Buildings in Southern Indiana saw there gutters this winter freeze solid multiple times and for many days in a row. Day time heating drove water towards frozen gutters, collector heads, and scupper boxes but as night fall set in the water quickly join the frozen band ice that clogged up most buildings drainage systems. Ice was creeping up and against the normal flow of water off a roof causing new and damaging leaks across the state.
Minor Roof Leaks Went Major
For those who already had a leaking building, this past winter wasn't kind. Water and moisture trapped for weeks and even months beneath rubber membranes and grave and tar roofs went through a daily freeze - thaw cycle that rapidly broke down the glues and adhesives attaching the membrane roofs.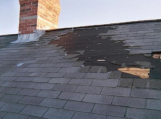 If your building is leaking remember that being proactive towards repair or replacement can save you large sums of money. Many single ply PVC roofing membranes like Duro-Last are made to lay over other types of roof and thereby saving the cost of a tear-off but it won't work if your existing roofing is completely saturated.