We meet very few building owners in Indiana or Kentucky that are willing make the sizable investment required to replace a flat roof before it begins to leak. Generally speaking, building owners make several repair attempts after the building's roof begin to leak and only after the leaking roof cannot be controlled or repaired any longer does the owner finally accept the fact that the roof needs to be replaced.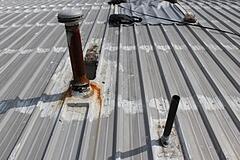 Here are two reason's why this approach may not always prove to be the best approach when it comes to your flat roof.
1. Single ply, PVC roofing membranes are now designed to lay over existing roofs and save building owners the expense of the tear- off. However this cannot be done if the existing roof is saturated with moisture. Long term leaks can saturate the roofing insulation and/ or the deck leaving the building owner without any options, the old roof must be removed. Adding a tear off to a flat roofing project will increase the cost of the job by at least 50% if not more.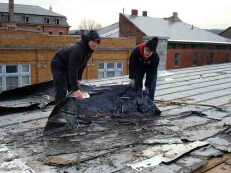 2. Not only will a tear off substantially drive up the cost of a flat roofing project in Indiana or Kentucky. The wet insulation will need to be replaced with new insulation when it could have been other wise left in place were it not saturated with moisture. Roofing insulation or poly ISO as it's called, is not cheap. The average cost of ISO board per Sq. Ft. at one inch of thickness is .41 cents in 2014. That means just the material to replace 5 inches of roofing insulation would cost $2.05 per Sq. Ft. not including freight and labor to install.
Building Owners and Property Managers can save thousands on Flat Roofing Projects by not letting leaks go uncontrolled for long periods of time. Save the cost of a tear off and expense of new roof insulation by laying over top of your existing roof with a PVC membrane.