Each year intense Indiana weather leaves many homeowners and building owners with roof damage. But most Hoosiers are unfamiliar with the insurance claim process. Here are the Do's and Don'ts of filing an insurance claim in indiana should your roof sustain damage from hail or high wind.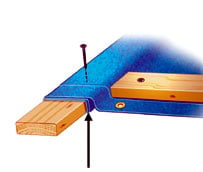 Do temporarily cover damaged areas to avoid water from entering the home or structure and causing greater loss. If you are unable to cover your roof yourself, have a roofing contractor cover damaged or missing shingles for you. In most cases the insurance company will even pay cost associated with temporarily drying in the home or building.
Don't begin work before the insurance adjuster has seen the damage. The adjuster will need to examine and document damage in order to write out a scope of work and generate a dollar amount to cover repairs. Beginning work before adjuster has shown up only slows and complicates the process.
Tip: Try to avoid having tarps installed over large areas of the roof. The tarp will most likely have to be removed for the adjuster to inspect the damage and all the nails and batten strips it takes to secure a tarp can do more damage to roof shingles. Try using felt paper and cap nails to cover only the damaged areas if possible and when tarps are needed using small tarps will make it easier to secure and detach when adjuster arrives.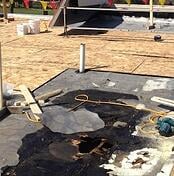 Do consider the amount of damage your roof has sustained and your insurance deductible. If you have a $1,000 dollar deductible but only $400 dollars of repairable damage you are wise not to file a claim and pay out of pocket for repairs. Consult with a trustworthy and reputable roofing company in your area if you are unsure of the cost of repairs. Insurance Claims stay on your file and can influence your future standing with insurance companies and the amount you will pay.
Don't fall victim to storm chasers and "insurance claim specialist". Refuse to sign an estimate or any kind of release fromm one of these roofing companies, it will give them the ability to file a claim on your behave and negotiate directly with your insurance company without your input. Roofing companies whose business models are based on storm damage do not have the homeowners best interest in mind, they are only concerned with filing as many claims as possible to "better" their odds of landing jobs.
Do interview potential roofing contractors and try to decide who you would like use before the adjuster comes out. In most cases, an experienced roofing contractor can meet on site with the insurance adjuster and help develop the scope of work the adjuster is willing to cover. Often time insurance adjuster have appointments back to back and are moving quickly. Your roofing contractor can help point out details to him/her that might otherwise be overlooked and not covered leaving you with more out of pocket expense.
Don't try to bully the adjuster into covering more than he/she should or lie to them about what was damaged in the storm or weather event. Insurance adjusters are just people, respect and kindness go a lot farther than arguing and telling them what they should do, especially in those gray areas where whether or not the insurance company pays for damage is at the adjuster's discretion.
Consult with experienced and established roofing contractors in your area should the intense Indiana weather damage your roof.