Each year approximately 6 million sq. feet of rubber roofing are installed in Indiana and it's not only because Firestone, a major rubber roofing manufacture, is located in Indiana, a properly installed and maintained rubber roof can last for many years. EPDM Rubber roofing is typically installed in Indiana in one of three ways, loose laid and held down by river stone or Ballasted, Mechanically attached with screws and bars, or fully adhered or glued down. Regardless of how your EPDM roof was installed, these tips will help you do a better job inspecting your flat roof.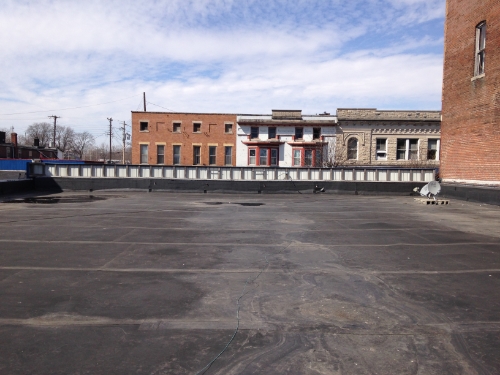 1. Visually check up. Walking the roof is a great way to start your inspection. You are looking for anything that might stand out as a problem such as a tear, puncture, or hole in the membrane. Leaking roofs are not alway a mystery, many times the problems can easily be found by doing a visual inspection or the roof. Check drains and gutters to make sure they aren't clogged and are allowing water to pass as well as coping caps on top of walls to ensure they aren't loose or missing from wind. As you walk the roof pay attention to the constancy of insulation below the rubber, a "soft spot" or place in the roof that compresses more when stepped on may be evidence of a leak.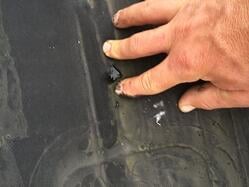 2. Transitions, Penetrations, and Seams. Rubber roofs most often leak because the seams have separated. Seams are found where deck sheet meet and over lap, at the transitions between the deck sheet and parapet wall, and penetrations such as stack flashings, pitch pans, curbs for HVAC units, and drains. EPDM seams are made by priming the rubber sheets and applying seam tape, this adheres the rubber sheets together. Flashing can be primed and adhered directly to rubber sheet. In both case the adhesion and durability of the seam is affected by temperature and moisture present during the initial installation. Check for separated seams on deck sheets and around flashings.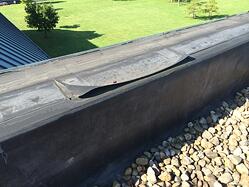 3.Terminations and coping caps. Any place where termination bar is used has the potential to leak due to shrinkage of the rubber over time, loosened or missing fasteners, insufficient caulking behind and on top of termination bar, and deteriorated masonry above termination bar especially on parapet walls or walls of connecting buildings. Your inspection should include taking a close look at the termination bar but also the coping cap. Check for gaps between sections and for areas that require cutting during installation such as inside and out corners of building or height changes in parapets. Many of these sections depend on a sealant or caulking where pieces but together.
4. Debris and Third party damage. An effort should be made to keep roof top clean of natural debris like sticks and leaves but also debris left by service companies such as HVAC contractors. Things like small screws or metal shavings need little more than to be stepped on to puncture or cut the rubber. Implementing a roof top sign in sheet will help your faculties manager monitor roof activities and which companies are leave behind garbage.
Taking care of your rubber roof will not only extend its life cycle, it can help you avoid costly emergency roof repairs. Scheduled repairs and routine maintenance are usually much cheaper and effective.