99% of our repair calls involve some sort of leak but this repair call was for noise. Earlier this year a customer reported a whistling noise and the sound of metal touching or rubbing against metal coming from the top of their metal roof. The homeowner had done several checks to see if any of the metal roofing had come loose or detached but each time he looked everything seamed to be normal.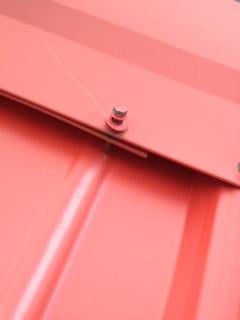 We set an appointment for a roof evaluation to try and see if we could diagnose the noisy problem. It didn't take long for our roof inspection team to determine the source of the annoying sounds. The company that put the metal roof on two years prior hadn't installed any closure under the ridge cap. Closure is a gasket like material that is supposed to be installed under the ridge cap to prevent wind driven rain from entering the home or building. Rain had not gotten under the metal roofing panels but the wind passing though the ridge cap was causing the whistling sound and waking up the homeowner during the nighttime hours.
The repair plan was straight forward, remove the metal ridge cap, installed the closure strip, and re-installed the ridge cap. We sent a two man repair crew over to Milton to tackle the job. They completed the task and checked the rest of the roof out and were done in about 5 hrs time.
We followed up with the homeowners after a few weeks to see if indeed we had solved the problem and they assured us we had. They said they were " very happy with the repair " and back to sleeping soundly thanks to Exterior Pro inc.