All but gone are the days of mopping on hot tar and using torches to heat up roofing material, not only are those roofing techniques expensive, messy and dangerous, the technology is antiquated.
New roofing membrane are lighter, tougher, easier to install, more energy efficient, and more versatile.
Here are the top 4 ways new roofing membranes drastically improve installation efficiency and brings down cost for building owners.
1. Engineered to lay over other roofs
The labor intensive tear off of a commercial roof can be as much as 50% of the total cost of the new roof installation. Not to mention that the building is exposed to weather, the installation time is doubled, and tearing the roof off a building can greatly disrupt the activities and work schedule of the tenants.
New, more advanced membranes weighing in at just 1/4 lb. per Sq. Ft. are engineered to lay over top of other roofing materials, saving the building owner the cost of the tear off, the time and risk involved, and the inconvenience and mess. PVC membranes can be installed over:
EPDM rubber
TPO single ply
Modified Bitumen
BUR or built up roofs
Low slope metal
2. Mechanically attached and year round Installation
The new commercial roofing membranes on the market today are tougher than ever. The fabric re-enforced materials have incredible breaking strength and are able to be attached to the building by using screws and plates, mechanically attached. This installation method offers tremendous savings over the more traditional route of fully adhering or gluing down commercial roofing products.
Mechanically attaching the roofing membrane also means that no harmful or flammable chemicals are needed and the installation is not dependent on warm weather.
Year round roof installation by method of mechanically attaching the membrane doesn't mean that roofing companies have any less labor burden or overhead cost but it does mean that they don't have to cover a years worth of overhead on a handful of projects during the summer months. This inadvertently creates additional savings for building owners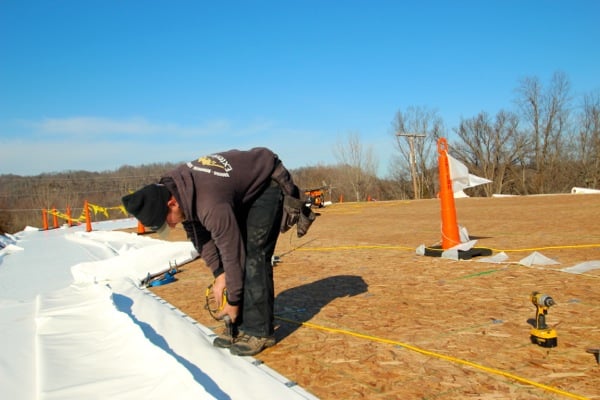 3. Better planing off the roof means faster install times
New flat roofing membranes and commercial roofing systems incorporate smart design and pre-fabrication in order to trim overlap and waste by at least 50% and reduce installation times by field crews.
The biggest variable in any roofing project is the labor cost. Roofing Crews that assemble pre-fabricated components are much easier to track and can be more precisely costed out as opposed to crews that " field manufacture" the components and then install them.
Less wasted material and more precise labor calculations transfer into lower overall costs to building owners and quotes from roofing contractors with less fluff in them.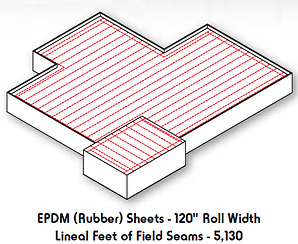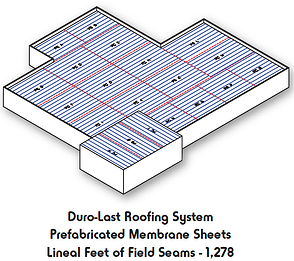 4. Low cost of ownership, Better warranties, and Third Party inspections
Prior to the arrival of roofing systems, there were many different components and accessories from multiple manufactures. Roofing contractors then "pieced" together the different parts that were to make up the roof. Unfortunately for the building owners these pieces and parts didn't always fit together quit like they should and would fail or go bad at different times over the years. This meant more roof top maintenance and higher cost of ownership.
The genius of a commercial roofing system is that the pieces and parts fit together and work as a team but also that they are designed to last the same amount of time. Much less effort is spent inspecting, repairing, and maintaining a roofing system.
Third party inspections preformed by manufacture's quality assurance techs after jobs are installed are leading to excellent warranties. Most major roofing membrane manufactures have a network of contractors they have certified to install their products. Couple trained installers with third party inspections and you get manufactures willing to stand behind their roofing systems for 15-30 years.
Better processes, products, systems, and warranties work together to lower flat roofing costs for building owners and increase value.